WEST YARMOUTH, Mass. - An American League All-Star catcher, the Cape League's all-time saves leader and a longtime player, coach and administrator are among eight men who'll comprise the 14th Cape Cod Baseball League Hall of Fame class to be inducted Saturday, Nov. 16, at Chatham Bars Inn.
Hall of Fame Committee member Jim Higgins made the announcement Sunday, June 9, during the league's annual First Pitch Brunch at the Ninety Nine Restaurant.
Inductees include current Baltimore Orioles star catcher Matt Wieters (Orleans '06), Cape League single-season saves leader Ryan Speier (Bourne '01), and the late Merrill Doane, a longtime player, coach and administrator from Chatham.
Also scheduled for induction are former league MVP Daniel Carte (Falmouth '04), former major league and Cotuit infielder Garrett Atkins, 1970 league MVP Jim Prete (Wareham '66, '67 & 70, Bourne '68), slugging first baseman Ed Drucker (Harwich '66) and undefeated southpaw pitcher Mickey O'Connor (Chatham '76).
Merrill Doane, Chatham
In a Cape League career that spanned more than 60 years, Chatham's Merrill Doane did it all. Starting as a player for the first Chatham Town Team in 1923, he went on to become one of the longest tenured general managers in league history, serving for several decades. In the 1960s, working with CCBL Hall of Fame managers Joe Lewis and John Carroll, Doane helped build some of Chatham's most powerful teams, including the 1967 championship squad that included eventual CCBL Hall of Famers Thurman Munson, Ed Baird, Joe Jabar and Steve Saradnik. Doane's teams also made it to the playoff finals in 1964, 1965 and 1969. Doane was one of the Lower Cape representatives who in 1962 fashioned the merger with Upper Cape teams that created a single Cape Cod League, which debuted in 1963. Merrill remained active with the Chatham Athletic Association, attending meetings into the 1980s. He donned a uniform and participated in the CCBL Old Timers Game in Orleans in 1985 at age 78, the oldest player on the field.
Mickey O'Connor, Chatham
The St.John's southpaw posted a perfect 9-0 record for the Chatham A's in 1976 with a 1.07 ERA, completing eight of 10 games and striking out 47 batters and walking 17 in 84 innings. In the All-Star game against the Atlantic Collegiate League, O'Connor hurled three scoreless innings and allowed just one hit. He posted a 1-1 record in the playoffs for the A's, compiling a 1.65 ERA, and was named to the All-League team and was voted the league's Outstanding Pitcher. The 6-6, 210-pound left-hander was drafted out of Christ the King High School (Queens, N.Y.) by the New York Mets in the 26th round in 1974 and again in 1977 in the 16th round by the Minnesota Twins. He pitched two seasons of Class A ball for Wisconsin Rapids in 1977 and Niagara Falls in '78.
These two inductees bring the total number of Chatham alumni in the Cape League Hall of Fame to 25, more than any other franchise. The full list is below.
Chatham Alumni in CCBL Hall of Fame
2000
Ed Lyons, manager ('76-82); Thurman Munson ('67)
2002
George Greer ('66-67)
2003
Ed Baird ('65-67); Joe Jabar ('66-67)
2004
John Caneira ('73); Don Reed, coach ('85-86)
2005
Ken Voges ('63)
2006
Steve Duda ('91-92); Rik Currier ('98-99)
2007
Steve Saradnik ('64-67); Walt Terrell ('79)
2008
Derrick DePriest ('99); Mike Stenhouse ('77-79)
2009
Zane Carlson ('01-03); Joe "Skip" Lewis, manager ('65-69)
2010
Tom Grieve ('66); Tom Weir ('66)
2011
Dave Bush ('00-01); Mike Lowell ('94)
2012
John Carroll ('61-63); Andrew Miller ('04-05); Jim Sherman ('80-81)
2013
Merrill Doane, player ('23) & GM/official/volunteer ('24-87); Mickey O'Connor ('76)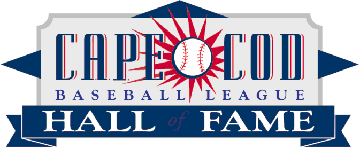 ''
''