Chatham Alum Is National League's Top Rookie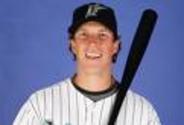 Major League Baseball announced that former Chatham star Chris Coghlan has won the 2009 National League Rookie of The Year award. The Florida Marlins leadoff hitter became the third Marlin to ever take home the honor joining Dontrelle Willis (2003) and Hanley Ramirez (2006).

As a 2005 member of the Chatham A's Coghlan led the team in batting average with a .346 clip. He scored 19 runs, hit 2 roundtrippers, and drove in 22 runners. That 2005 squad included current major leaguers Evan Longoria, David Huff, Andrew Miller and Todd Frazier, a high-level prospect for the Cincinnati Reds. Despite the loaded lineup, Coghlan was the only player on the team to walk (17) more than strikeout (15), which is a rare feat in the pitcher-friendly Cape League.

Coghlan was the regular third baseman for the A's but found a home in left field for the Marlins. The 24-year-old became the first NL rookie in history to lead the league in hits after the All-Star break hitting .372 during that stretch. His .321 season average ranked sixth overall in the NL. He also finished with nine homeruns, 47 RBIs, 31 doubles, and 84 runs scored.

The funky part about his path to the majors is that Coghlan spent his minor league career as an infielder batting in the middle of the order. He found his niche in a completely different spot as the leadoff man and leftfielder for the Marlins.

The Chatham Athletic Association congratulates Chris on receiving the honor!