Anglers Fall in Final Regular Season Game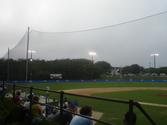 In the last game of the regular season, Chatham lost a close battle to the Orleans Firebirds for a second consecutive night. The 3-2 defeat was not a factor in playoff seeding.

Orleans popped on two runs in the third inning when Hampton Tignor's single drove in Devin Lohman and Andersen Gardner. The score moved to 3-0 in the fifth thanks to a Riccio Torrez sacrifice fly to score Ross Heffley.

Chatham answered in the seventh with a Brian Harris RBI-single to score Matt Perry. It was more of the same in the ninth as Harris knocked in Perry again, this time in the form of a sacrifice fly.

With the score 3-2 Orleans and two outs for the Anglers with a runner on second base, Whit Merrifield knocked a base hit into rightfield. Pinch runner Tom Belza tried to come home on the play but was tagged out at the plate to end the Anglers comeback push.

Orleans ace Rob Rasmussen tossed 6.2 innings allowing just one run and striking out five to bump his record up to 4-0.

The game of the season is Friday night at Eldredge Park at 7PM. A one-game wildcard will decide who advance to the Cape League semifinals. Orleans and Chatham will meet for a third consecutive game to decide who moves on and who goes home. Baylor freshman Logan Verrett takes the mound for the Anglers against Firebirds righty Casey Gaynor. The Anglers Extra Pregame Show will kick off the playoff broadcast thirty minutes prior to game time at 6:30PM.