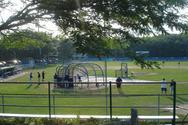 The 2009 Cape Cod Baseball League season will be a study in contrasts for the Chatham Anglers. Beginning with a new name, the Anglers look to move towards an exciting future, while still maintaining the rich history of the organization. Aside from adopting a new name after a storied history as the Chatham As, the home of the Anglers, historic Veterans Field, will have a new look. Thanks to a large grant from the Yawkey Foundation, a major renovation took place in the off-season. The outfield was regarded, and new sod was laid down, improved safety nets were added, and a brick kneewall was constructed behind home plate.

On the field in 2009, John Schiffner and new General Manager Andy Ruddock have assembled a very versatile roster. With just four players returning from 2008, fans may not recognize too many faces from last season. However, certain names sound familiar, because the 2009 team consists of five players with previous Cape League experience. Local fans can find favorites on the roster, as three Massachusetts natives will suit up for the Anglers. One of these is infielder Matthew Perry, who was named the Patriot Leagues Player of the Year while playing for Holy Cross. The Anglers also have added three native Californians to the roster. Freshman Rick Oropesa arrives from USC as a highly versatile player who enjoyed a solid freshman campaign, and could remind some fans of another USC Trojan, Grant Green.

A key returnee from 2008 is North Carolina righthander Matt Harvey. With an earned run average of 0.81, the highly sought after prospect lived up to his biling in his debut season. His impressive body of work last summer led Baseball America to tag him as the leagues third best professional prospect. However, it will be a few weeks before Anglers fans can watch Harvey take the mound, as his Tar Heels are in Omaha for the fourth consecutive year.

Pitching coach Tyler Kincaid returns, as does Jay Grenier, of Rhode Island College. However, three new coaches join the staff, as Barry University Head Coach Mark Pavao comes aboard, along with Arlan Freeman, Barrys pitching coach. David Miller, who played for Chatham in 1994, makes his return, this time as a player after recently ending over a decade as a player in professional baseball, including several stints with major league clubs.

With the league revamping its playoff format, as well as holding the All-Star Game at Fenway Park on July 23rd, interest and excitement for the Cape Cod Baseball League continually approaches new heights. With a new name, and a newly improved home, the Anglers enter 2009 looking to make an immediate splash.