Chatham Anglers: Season Preview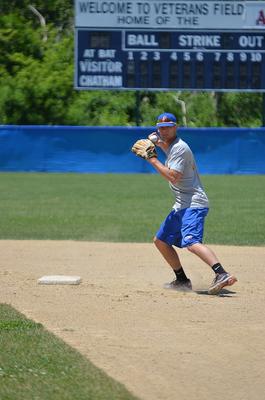 Entering the 2012 regular season, the Chatham Anglers are celebrating John Schiffner's 20th season as manager, the Chatham Athletic Association's 50th year of operation, Veterans Field's 90th year hosting games and Chatham's tricentennial. Chatham fans can expect to see a lot of new faces this season as only three players return from last year's roster, right-handed pitcher Dace Kime (Louisville), right-handed pitcher Alex Powers (Southern New Hampshire) and infielder/outfielder Alex Calbick (Maine). With several days of official practice, the team has been hard at work preparing for the season opener against Wareham.

So far this preseason, hitting is anticipated to be a strength. Chad Pinder (Virginia Tech), infielder Pat Valaika (ULCA) and outfielder Tom Bourdon (Boston College) highlight Chatham's roster offensively. Pinder hit .325 for the Hokies this season with seven home runs and 37 RBI. In practice, Pinder has demonstrated potential to hit to all fields as well as some gap power. Valaika is hitting .271 with 37 RBI for the Bruins this season, who are still playing in the College World Series and could provide the Anglers with savvy base-running and run production upon his arrival to Chatham. For Boston College, Bourdon hit .324 with 10 home runs and 37 RBI. Bourdon could provide serious power in the middle of the Anglers' lineup.

With regard to pitching, the Anglers look to improve in an area that has been a strength in the past. In seven of the last twelve seasons Chatham has posted a sub-three team ERA, highlighted by a 2.29 ERA in 2005. Finishing second in the nation in saves (19), Michael Wagner (San Diego) posted a 5-2 record with a 2.58 ERA with 53 strikeouts and should provide Chatham with a boost on the rubber. Scott Frazier (Pepperdine), another highly touted arm for Chatham, had a highly productive year for the Waves, possessing a 3.93 ERA and recording 69 strikeouts.

Chatham will play its first home game on Friday June 15th and will play five of its first seven games at Veterans Field.