Bats Can't Support Another Strong Lyons Pitching Performance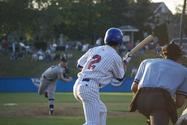 Tyler Lyons pitched 7.1 innings and allowed just one run yet took the loss on Sunday evening. Aaron Meade shut down the Anglers for 7.1 innings en route to a 1-0 Harwich win.

The only scoring took place in the bottom of the seventh inning. Connor Powers and Stuart Tapley got things going with back-to-back singles. After a pair of strikeouts delivered by Lyons, Joe Loftus knocked a single into rightfield that brought home Powers.

Meade was replaced by Brian Dupra who kept the lead intact for the final 2.1 innings.

With the loss the Mariners creep a bit closer to the Anglers in the standings. Chatham (40 points) and Harwich (37 points) meet up again on Monday night at Whitehouse Field. This matchup is the game of the season for both squads as it has a major impact on the playoff implications of the sixth seed. At 6:40PM the Anglers Extra Pregame Show will be on the air leading up to a 7PM start time.