Anglers Eliminated from Playoff Contention With 4-1 Loss to Hyannis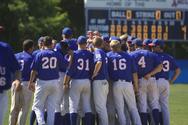 The Hyannis Harbor Hawks defeated the Anglers 4-1 at Veterans Field, dashing any hopes Chatham had of making the playoffs. The Anglers are two games back of the Harwich Mariners with two games to play, but the Mariners hold the tie-breaker, having defeated the Anglers five out of six times the two teams met this season.
The Anglers broke a scoreless tie in the bottom of the third inning as Aaron Westlake (Vanderbilt) belted his fifth home run of the season, a solo shot, onto the street behind the right field wall off of Hyannis starter Colin Rae (Indiana State). Rae wouldn't allow another run, picking up his first win of the season by going seven innings allowing just four hits and a walk while striking out seven batters.
Hyannis would quickly strike back in the top of the fourth inning against Chatham starter Greg Larson (Florida) as they scored three times to take a 3-1 lead. Casey McElroy (Auburn) led off the inning with a single before a double by Charley Thurber (Tennessee) put runners on second and third with nobody out. Dane Phillips (Oklahoma State) singled to center to score McElroy to tie the game at one and Jeff Lusardi (Missouri) gave Hyannis a 2-1 lead with a RBI ground out. With two outs and runners on the corners, Cody Stubbs (Tennessee) singled just over the outreached glove of shortstop Joe DePinto (USC) to score Phillips making it 3-1. Thurber would add a solo home run to right field leading off the top of the ninth against Chatham reliever Phil Schreiber (Iowa) to finish the scoring.
Box Score
Text
|
HTML
Related Media
Game #42 vs. Hyannis: Game 42 vs Hyannis ( )
Game #42 vs. Hyannis: Manager's Show - John Schiffner, Game 42 vs Hyannis ( watch on YouTube )
Game #42 vs. Hyannis: Catch of the Day - Kevin Vance, Game 42 vs Hyannis ( watch on YouTube )
Game #42 vs. Hyannis: Catch of the Day - Matt Brazis, Game 42 vs Hyannis ( watch on YouTube )