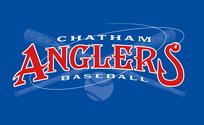 When fans flock to newly upgraded Veteran's Field in the summer of 2009, they'll enjoy the same classic Cape League experience, with one minor change. On October 15th, the Chatham Athletic Association voted to change its team name from the Chatham Athletics to the Chatham Anglers.

A's President Peter Troy said, "We are very excited about the new name, especially its relation to the Chatham fishing community. We hope that our loyal fans will agree and that new fans will get hooked on the Anglers."

The name change allows the organization to still utilize its numerous partnerships with local vendors for all Anglers merchandise. Under the terms of the Cape League's new agreement with Major League Baseball Properties, the organization would have to purchase merchandise from only a very limited selection of vendors. Since the team was no longer under the blanket of the MLBP agreement, the name had to be changed to one not trademarked by Major League Baseball. Although the team was known as the A's for nearly 40 years, the Chatham Athletic Association looks forward to 2009, and Chatham Anglers baseball.