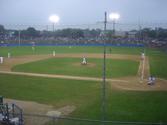 Despite not qualifying for the playoffs, the 2008 season was still successful for the A's, as some Chatham players were among the league's best. Finishing with a record of 19-25, Chatham's 38 points put them in fourth place in the Eastern Division. However, they weren't eliminated from playoff contention until the season's second to last day. Before that game against the Brewster Whitecaps, the A's handed out the season's awards. Kyle Seager and Evan Ocheltree were recipients of the Ed Lyons Coaches' Award. Star closer Brad Boxberger took home the Zane Carlson Outstanding Relief Pitcher award. The Ed Baird Outstanding Pitcher Award was given to San Diego's Sammy Solis. Grant Green, who led the team with a .348 average, took home the outstanding player award, as well as winning the Cape League's Outstanding Pro Prospect Award, as voted on by the numerous Major League scouts who flock to Cape League games throughout the summer.

Green, who also took home MVP honors in the All-Star game, played July 26th at Veterans Field, was joined atop the league leaders by teammate Cory Olson. Olson was one of the surprises of the summer, joining the team two weeks into the season, and recording an average of .325, and also being named to start in centerfield for the East Division All-Stars. Olson will enter UC-Irvine in the fall, and play for the Anteaters as a junior in the spring. Kyle Seager hit .288 for Chatham in his second summer with the A's. The North Carolina infielder sported a .380 on-base percentage, second only to Olson's .397 amongst the A's.

The A's also saw success on the mound. Sammy Solis finished with a 3-2 record, sporing an ERA of 2.41. In 37 innings, the big lefty struck out 32, while walking only seven. He was also named to the Eastern Division All-Star Team. Joining him on the East squad was A's closer Brad Boxberger. The junior-to-be at USC was virtually lights out in late game situations for Chatham, as he picked up nine saves. Boxberger struck out 28 in 18.2 innings.

As the 2008 season ends, be sure to check back on chathamas.com throughout the offseason, as the 2009 schedule and roster will be released, along with other various A's information.