A's Conclude Season With Loss To Division Champion Cardinals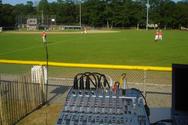 Playing in the second game of a doubleheader on the season's final day, it was a tough task for the A's, as they traveled to Orleans to take on the Cardinals, holders of the league's best record. The task was a bit more deflating after a loss to Wareham in the afternoon. Once again, the A's used a whole host of pitchers, beginning with Kyle Blair, who ran into trouble in only his second inning. Angelo Songco continued tormenting the A's with a home run to left. Base hits from Michael Murphy and Travis Tartamella gave Orleans a 2-0 lead and chased Blair, who gave way to Carmine Giardina.

The A's answered right back in the top of the third, as Kyle Bellows continued his hot hitting, doubling in Kyle Seager and Gregg Glime. A run for the Cardinals in the bottom of the inning gave them a brief lead, before Chatham took the lead for the first time in the top of the fourth, as Gregg Glime's bases loaded single plated Evan Ocheltree and Gabe Cohen.

The seesaw middle innings continued in the bottom of the fifth, as the Cardinal offense woke up, as Angelo Songco doubled in another run, before scoring on Kyle Spraker's home run. Spraker's home run was followed by a Michael Murphy homer, giving the Eldredge Park crowd excitement, and the Cardinals a 7-4 lead. Chatham's offense was unable to respond, as the Cardinals added two more in the bottom of the seventh. One quirk in the game came in the eighth, when it was announced that the eighth inning would be the final inning of play, due to mutual agreement from A's manager John Schiffner, and Cardinals skipper Kelly Nicholson. The A's were unable to score in the eighth, and when Corey Overholtzer was called out on strikes, it brought the 2008 season to an end.