A's Lose at Wareham 5-4;
Season Finale at Eldredge Park & A's Extravaganza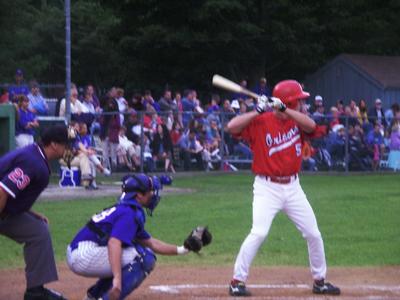 The Chatham A's play their final game of the season Thursday night at Eldredge Park against the Orleans Cardinals. After losing a 1pm game at Wareham 5-4, the A's take an hour long bus ride to Orleans for one final installment of the Cape's greatest rivalry starting at 7pm. In the loss to the Gatemen, Yan Gomes returned to the lineup with a three-hit game including a home run.

John Schiffner has not announced a starting pitcher for Game 44. He and Tyler Kincaid will sort out the pitching succession after the afternoon game in Wareham. A live update about the pitching matchup can be heard on a special A's Extra Pregame Show beginning at 6:30 with the Manager's Show, D'Uva's Dugout and Glime Time. Stay tuned after the game for A's Extravaganza, our special final postgame with extensive player interviews and a season wrap-up with John Schiffner.

The A's were eliminated from possible playoff contention Wednesday with a loss to the Brewster Whitecaps 9-1. Even if Chatham had won, Harwich had won its game against Orleans, thereby clinching second place and deciding the East's playoff pairing. The Orleans Cardinals clinched the East Division Championship Monday with a win against the Falmouth Commodores. The Cards enter the regular season's final day with a 24-17-2 record (50 points) already assured of the best regular season clip. Chatham has 38 points through 43 games, a 19-24 record, good for fourth place. A loss in the season finale in Orleans, coupled with a Y-D win against Cotuit, would pin Chatham in last place for the first time since 2002.


A's Extravaganza
After Thursday night's game against the Cardinals, stay tuned to the Cape Cod Baseball Network for a special season finale of the A's Extra Postgame Show. Extensive player interviews, highlights, season recap and special feature interview with John Schiffner take place directly after the game.