A's Stay Alive With Win Over Mets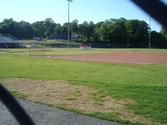 Needing a win to keep their dim playoff hopes alive, the A's welcomed Grant Green back to the lineup on Tuesday in Hyannis, and their leading hitter delivered. He gave Chatham a 2-0 lead on the fifth pitch of the game, homering to left off of Matt Ridings, and driving in Kyle Seager in the process. Given a 2-0 lead, A's starter Adam Warren struggled, as he gave up three runs in the bottom of the first, the big blow coming on a two-RBI single from Chris Dominguez.

Warren settled down after the first, and the A's offense quickly struck back. Kyle Bellows tied the game in the third with an RBI double that plated Green. A bases loaded walk to Kyle Seager in the sixth brought in Evan Ocheltree and gave Chatham a 4-3 lead. Warren took advantage of this lead, as he pitched seven innings, striking out seven, and giving up just four hits after he gave up three in the first. He was replaced by Bobby Hernandez in the eighth, who allowed a run to score on a sacrifice fly.

With the lead trimmed to one, Chatham needed insurance, and they got it in the top of the ninth. Green led off with a single before Bellows and Victor Sanchez were retired on fly balls. With two down, Evan Ocheltree singled to left. The ball was misplayed by Joey Gonzales, allowing Green to score. Ocheltree scored the second run of the inning when Gabe Cohen, the next batter, singled him in.

With a 7-4 lead, A's closer Brad Boxberger took the mound in search of his first save since July 7th. The All-Star showed off his All-Star form, working a perfect ninth inning to earn his ninth save on the year. With the win, Chatham keeps its playoff hopes alive heading into a crucial showdown with Brewster at Veterans Field on Wednesday. The A's stay alive as long as they continue to win, and Harwich fails to pick up points. Audio and video coverage of tonight's game begins at 6:40 with the A's Extra Pregame Show.