A's and Kettleers Rescheduled for 8/4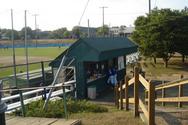 The A's and Kettleers will not play Friday, July 25. More than two inches of rain have made field conditions unplayable even for Friday night. The game, originally scheduled for July 24, will now be played Monday, August 4 at 7pm.

Rain Thursday night forced a postponement until Friday afternoon, but continued precipitation in the morning caused another delay. As the A's grounds crew worked on Veterans Field Friday afternoon, it was determined that the field still would not be ready for an evening game. Chatham General Manager contacted the Kettleers organization and agreed to makeup the game on the next mutual open date: August 4.

The grounds crew continues to prepare Veterans Field for Saturday's All-Star Game. Fans may enter the ballpark at 2pm and batting practice will begin at 2:45 accompanied by an autograph session. The Baseball Factory Home Run Hitting Contest gets under way at 5pm and the the Under Armour 46th CCBL All-Star Game starts at 7.



The A's will next be in action Monday, July 28 at Bourne at 7pm. The A's return home Tuesday to host the Orleans Cardinals at 7.