First Place Cardinals Edge A's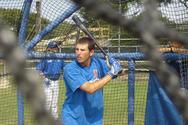 AFter back to back wins over the Brewster Whitecaps, the A's struggles against other Eastern Division opponents continued with a 5-4 loss to Orleans Sunday night at Veterans Field. The first place Cardinals entered with a league-best mark of 20-9, throwing righthander Martin Viramontes against Chatham for the second time in a week. Matt Zoltak countered for Chatham, as the A's were without Grant Green for the first time all season. The league's leader in hitting was enjoying his first night off of the season.

The Cardinals struck first, scoring twice in the third inning. Tim Wheeler reached on a bunt single with two outs. Matt Bowman then hit a ball to centerfield. Normally, it would have been a single, but Cory Olson slipped, and the ball got past him, allowing Wheeler to score. Bowman was then driven in on a single from Alex Hassan. The lead grew an inning late, as Cole Figueroa singled, stole second, and scored on an RBI single from Florida teammate Hampton Tignor.

The A's responded in the fourth, as Yan Gomes drilled a two run home run to left, his first of the season, and thirteenth RBI in thirteen games. The A's tied it in the bottom of the fifth, after Dave Hale singled in Kyle Bellows. With Bobby Hernandez now pitching for the A's, the game headed into the seventh tied at three. In his first at bat since replacing Gary Brown in left, Angelo Songco homered to right, breaking the deadlock. Orleans added an insurance run in the eighth, as Cole Figueroa singled in Nate Frieman.

A's manager John Schiffner was ejected in the middle of the ninth inning for the first time all season. Orleans manager Kelly Nicholson, three outs from his 100th Cape Leage win, pulled Alex Hassan out of centerfield to close the game, and he did just that, striking out Evan Ocheltree, Kyle Bellows, and Joe Mercurio to end the game. It was Hassan's second save against the A's in less than a week. The bullpen for both teams was decisive, as Justin Earls improved to 2-0 with three and two thirds innings of relief, while Bobby Hernandez was the loser for Chatham. He allowed the decisive Songco home run, leveling his season mark at 1-1.

Chatham falls to 15-17 entering Monday night's game against the Harwich Mariners. The Mariners have taken all four matchups with the A's this season, as they face Jake Thompson tonight. Thompson, a righty from Long Beach State, has won his last two starts. He opposes Michael Morrison, a righthander from Cal State Fullerton. First pitch is at 7 PM, with the A's Extra Pregame Show beginning at 6:40.