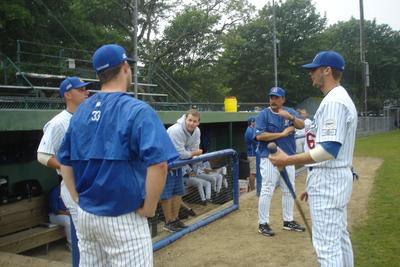 John Schiffner made his final roster move Sunday, activating RHP Kyle Blair (San Diego) and releasing LHP Jeff Lorick (Virginia).

Lorick's departure had been planned since before the Cape League season began. The sophomore will require minor surgery in order to be healthy for fall ball at UVA. The procedure was not so urgent Lorick couldn't compete in the summer. Lorick concluded his 2008 summer with a 1-2-3 eighth inning at Brewster in Chatham's 10-3 win. The Duluth, GA native finished the season with a 1-2 record and a 3.33 ERA in 12 appeaerances.

Blair was part of the original 2008 roster assembled by John Schiffner in the fall. However, San Diego coach Rich Hill decided Blair needed arm rest after throwing almost 75 innings as a freshman for the Torreros. Significantly rested, Hill and Schiffner agreed Blair was ready to come to Cape Cod and will make his first A's start on Tuesday at Y-D. Blair was 8-4 this spring with an ERA at 3.86, making 12 starts and four relief outings while compiling 99 strikeouts.