All-Star Special With John Schiffner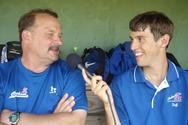 Four Chatham A's have been chosen to represent the East in the 2008 Cape League All-Star Game. Grant Green (USC) will start at short for the East. Cory Olson will be a reserve outfielder, while Sammy Solis and Brad Boxberger (USC) will staff the East bullpen.
A's Manager John Schiffner spoke
In Depth
with Brian Clark about the four A's All-Stars, the selection process and the 2008 All-Star game which will take place at Chatham's Veterans Field Saturday, July 26.
A's Extra Audio
More interviews at
A's In-Depth