A's Collect Much Needed Win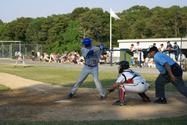 After an abysmal performance Friday evening against Cotiuit, the A's rallied for a 5-4 win over the Brewster Whitecaps Saturday at the Stony Brook School. The A's recieved timely hitting from all points of the lineup, and excellent pitching from starter Bobby Hernandez, Kevin Couture, and Brad Boxberger. Chatham grabbed the lead in the second inning, as J.R. Higley scored on a Joe Mercurio single to centerfield. Nate Lape misplayed the ball in center, scoring Higley and allowing Mercurio to take second. After Brewster scored two in the bottom of the inning to take the lead, Barry University's Bobby Hernandez, making his first start of the summer on his 21st birthday, mowed down the Whitecap bats. Standing on 3rd after a triple, Grant Green scored on a wild pitch to tie the game at two. J.R. Higley doubled and scored his second run of the game in the top of the sixth, off of yet another Joe Mercurio single. A bases loaded walk later in the inning to Devin Lohman scored Corey Overholtzer, padding the A's lead.

Leading 4-2, Hernandez appeared to be in line for the win, but with Derek Poppert on first, Nate Lape crushed a two run blast to centerfield, tying the game at four. Kevin Couture was brought out of the bullpen to finish the 7th inning, as Hernandez departed after 6.1 innings of five-hit ball. In their next at bat, the plucky A's rallied once more, as J.R. Higley, the second A's player celebrating a birthday, walked and later scored via a ground rule double from Corey Overholtzer. With the 5-4 lead intact, John Schiffner handed the ball to USC's Brad Boxberger. Facing the 6-7-8 portion of the Brewster lineup that accounted for five of their six hits and all four runs, Boxberger struck out the side in the bottom of the 9th, ending the ballgame and picking up his second save in as many chances.

With the win, the A's conclude their five game road swing with a 2-3 mark, 2-5 on the season. They continue their push towards the .500 plateau as they return to Veterans Field Sunday night to face the Falmouth Commodores. UCLA's Charles Brewer, who went 2-2 with a 1.94 ERA in seven starts last season, will take the ball for his first start of the 2008 campaign. Pregame coverage on chathamas.com begins with the A's Extra Pregame Show. As always, the broadcast is brought to you by TRZ Teamline.