Six Run Inning Dooms A's in Falmouth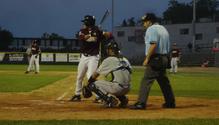 The A's dropped to 1-4 on the young season, losing a heartbreaker to Falmouth by a 7-6 count. Grant Green had a busy night, and he set the tone early as he led off the game with a home run, the second home run in as many nights for the A's. Pitching with a lead, Vermont lefthander Joe Serafin was impressive. His lead was bolstered to 2-0 in the 3rd inning when Green scored again on a Kyle Bellows sacrifice fly. However, Serafin ran into trouble in the 6th. With three runs already scored, Serafin looked to escape the two out jam, as he worked two strikes on Wichita State rightfielder Ryan Jones. Unfortunately for Serafin, the first Cape League hit for Jones turned out to be a three run home run to put Falmouth in front 6-2. John Folino ended the sixth inning, coming on in relief.

In a four run hole, the A's battled back. Walks to Green and Devin Lohman opened the top of the seventh, and a single from pinch hitter Kevin McAvoy loaded the bases. Green scored on a J.R. Higley fielders choice, setting the stage for Rob Papenhause to line a ball off the glove of shortstop Joey Wong and into centerfield, allowing Lohman and McAvoy to score and tie the game. It was the second hit of the night for Papenhause, who came on as a pinch hitter in the 5th inning. Ultimately, the seesaw game tilted back in Falmouth's favor, as Jimmy Cesario led off the bottom of the frame with a double. Justin Miller's ground ball would score Cesario with the eventual winning run.

Chatham had one more chance in the top of the 9th, as Victor Sanchez struck out on a pitch in the dirt. However, the throw went into deep right field, allowing Sanchez to move to third. Rob Papenhause was unable to collect his third hit of the night, and Dylan Brown ended the game with a groundout.

The A's will next be in action tomorrow night in Cotuit for a 5 PM tilt with the Kettleers. Coverage on chathamas.com begins at 4:40 with the A's Extra pregame show, continuing until the first pitch at 5.