Solis, Lohman Power A's to First Win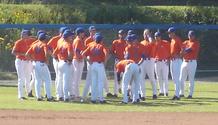 The A's broke into the win column for the first time in 2008 with a 5-2 win over Hyannis at McKeon Park. Chatham scored all five runs in the second inning, two off of a Corey Overholtzer single, and three more on Devin Lohman's home run, the first of the season for the A's. With a 5 run lead, Sammy Solis mowed down Hyannis batters. The San Diego State freshman pitched five innings, striking out seven, while allowing two runs on six hits to earn his first win of 2008. The bullpen trio of Carmine Giardina, Kevin Couture, and Brad Boxberger allowed only one hit in four innings, as Boxberger was credited with his first save of 2008.

The A's are in Falmouth for a 7 PM start Thursday night against the Commodores. University of Vermont junior Joe Serafin will make his first start of the summer, with coverage beginning on chathamas.com at 6:40 with the A's Extra pregame show.