2008 Season Preview with John Schiffner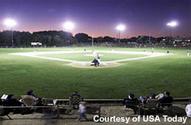 A's manager John Schiffner, the winningest in Cape League history with 338 victories, is proud of his accomplishments, but excited for the 2008 edition of his team. Schiffner should be, as he has a crop of returning players that should mix nicely with a talented group of newcomers.

For the first A's In-Depth interview of 2008, John Schiffner speaks at length about the process of putting together the 2008 Chatham A's and his evaluation of the players he's recruited.



Chatham's strongest area should be its pitching staff. Most notably, the A's will suit up all three weekend starters from the University of North Carolina: Alex White, Adam Warren, and Matt Harvey. Of course, those three, along with Tar Heel shortstop Kyle Seager will be a bit delayed in arriving on the Cape, as they look to win a national championship at the College World Series. In the absence of the Carolina group, all Chatham starters know that perhaps the best reliever in the league, Southern Cal's Kevin Couture, will be waiting in the bullpen. Couture returns to Chatham looking to build on his All-Star standing in 2007, when he threw 30 innings, compiling a robust 0.90 ERA.

With the pitching prowess on the roster, it could be easy to overlook the Chatham bats, but this solid group is not to be taken lightly. Leading the charge is USC shortstop Grant Green. A third-team All American and first team All Pac-10 selection, Green returns to the Cape after helping the Y-D Red Sox to the 2007 championship. Aaron Miller, a sophomore from Baylor, is expected to be an outfield anchor. Miller's Baylor teammate, catcher Gregg Glime, returns for a second stint in Chatham, where he'll handle the pitching staff, along with Maine's Joe Mercurio.

When the A's take the field on June 14th against the Hyannis Mets, the team on the field will undoubtedly look different from the nine that will conclude the season, but John Schiffner's clubs have dealt with roster reshuffles before, and A's fans hope that if they can do the same in 2008, the Cape League championship will come to Chatham for the first time since the 1998 season.