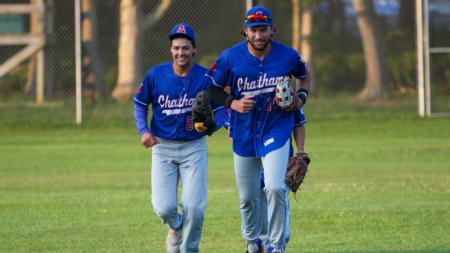 After a tie and a loss, Chatham obtained its first win of the 2023 season on June 13. The procedure of taking two steps backward before taking one step forward, however, remained for the majority of the season.

Through a slew of managerial changes and inconsistent pitching, the Anglers couldn't string together more than two wins in a row until the final four games of the season. During that span, Chatham won all its matchups and outscored opponents 38–20. But an overall run differential of -66 ultimately marred the A's.

Three shutout victories, one of the Cape League's most historic ties of all time, a neck-in-neck team-batting-title competition, and a peculiar week-long stretch of persistent fog highlighted Chatham's centennial season. Here are the Anglers' top-five moments of 2023.


1. Pitchers Brody Brecht and Matt "Tugboat" Wilkinson produce 13 strikeouts in 2–0 shutout over Firebirds

Fans at Veterans Field probably didn't know about the nickname "Tugboat" before Matt Wilkinson (Central Arizona to Cleveland Guardians) strutted onto the mound in the top of the fifth inning on June 13. Two innings later, it began to hook like bait on a fishing rod.

By the top of the ninth inning, as Wilkinson searched for his fifth and final perfect frame of the affair, a frenzied squadron of spectators began to cheer "Tug! Tug! Tug! Tug!"

"It was fun to have fans," former Chatham manager Tom Holliday said. "Those kids who got behind 'Tug,' I mean, that might be a night he never forgets."

Wilkinson fanned eight batters in the Anglers' first win of the 2023 season, a 2–0 shutout of Cape League rival Orleans. The six-foot-one, 275-pound lefty hurler, who received the nickname "Tugboat" from his dad's best friend, didn't surrender a hit or walk. On his way back to the dugout after the game, Wilkinson hit the "Connor McGregor walk" as jubilant celebrations filled the crowd.

Starter Brody Brecht (Iowa) didn't go underlooked either. The righty Hawkeye showcased his sizzling fastball, which reached the upper 90's, in four shutout innings of his own which included five strikeouts. The Brecht-Wilkinson pitching tandem paved the way for a much-needed first tally of the summer.


2. Chatham participates in impromptu, intrasquad home run derby amid 'year of the fog'

From July 4 to July 11, the Anglers completed just one game. Four contests were suspended due to fog and one due to a thunderstorm.

Reactions from players weren't necessarily pessimistic. Many of them had never seen anything like the infamous "fifth-inning fog" at Veterans Field. But there was nothing more oddly spectacular than when Chatham held a spontaneous intrasquad home run derby on July 7 under the thick haze.

The original contest against Falmouth, which never started, morphed into a battle between the "Lyle Miller-Green Marauders" and the "Nolan Schubart Swingers." Chatham public address announcer Peter Burns minted the team names before the respective crews broke up into formations on the third- and first-base foul lines.

"I've given up plenty of home runs in my day when I was a pitcher in college," Chatham third-base coach Marty Lees, who threw during the derby, said. "It was similar to what I've been facing. It's fun for the crowd with the teams not being able to play tonight. I see some energy in the stands tonight, something a little off the wall."

Even though the crack of the barrel could be heard throughout the park, the balls that were sent into the misty-night sky weren't even visible.

"Just get as many swings off as possible," Miller Green, the 2022 Cape League Home Run Hitting Contest champion, said about his strategy. "That was kind of my approach last year in the home run derby, swing as many times and just get the ball in the air."

Pitchers Gabe Davis (Oklahoma State) and Brian Holiday (Oklahoma State) participated in the derby but could hardly make contact with the ball as laughs and jeers arose from opposing sides of the diamond. The Marauders took a 7–6 win.


3. Chatham climbs back from a 10-run deficit to tie league-leaders Cotuit 12–12 at Lowell Park

On July 19 at Lowell Park, 11 runs were scored on the A's starting pitcher, Trey Gibson (Liberty). But, despite Cotuit amassassing a commanding 12–2 lead by the end of the fourth inning, the Anglers never gave up.

Since 2011, teams in the Cape Cod Baseball League held an 0–146 record when down by at least 10 runs. That statistic apparently didn't faze Chatham.

"To start off the game, we had some errors and some walks that didn't amount to anything but runs for them," Lees said. "I'm proud of their effort. This team never felt like they were out."

The Anglers tacked on six combined runs in the fifth and sixth inning while reliever Liam Paddack (Spokane Community College to Gonzaga) held the Kettleers scoreless across the final three innings he pitched.

After three defensive substitutions from Cotuit manager Mike Roberts in the top of the seventh inning, a flurry of timely Angler hits and walks, with a baserunner and two outs, commenced.

Deric Fabian (Florida to Auburn) slapped a single to score Trace Willhoite (Lipscomb) from the first bag and was followed up by a Bryce Martin-Grudzielanek (Southern California) single. Two consecutive walks allowed Chatham to score a runner and keep the bases loaded for Tyler Wulfert (Oklahoma State), who clobbered a single to right field to score Grudzielanek and Zach MacDonald (Miami Ohio).

"It was just a matter of passing the bat to the next guy," utility player Kyson Donahue (Hawaii) said. "No one gave up in that moment and we just wanted to put something together."

Incredibly, Chatham had a chance to win the game if it weren't for darkness. As Grudzielanek stood over the plate with bases loaded and one out in the top of the eighth frame, tied at 12 apiece, the affair was cut short. Cotuit's backstop, Dylan Johnson, said he couldn't see the ball.


4. Two-homer performances by Kyson Donahue and Trace Willhoite, respectively, kickstart Anglers' 5–1 finish to the season

In the waning days of the season, two unlikely heroes emerged for Chatham when the A's needed it most.

From July 5 to July 18, Donahue didn't register a single at-bat. Praised as an all-around utility player, most of Donahue's time was spent on the bench during that stretch. But he also picked up on better habits in the box, such as flattening out his barrel, while watching from the dugout and during batting practice. When Donahue's time came, he didn't disappoint.

In his final 14 games, Donahue mustered a hit in all but two contests. His crown jewel featured in the second game of a doubleheader against Orleans on July 28, in which the righty swinger went 3–4. In those at-bats, the Honolulu, Hawaii native left yard twice to propel Chatham over the Firebirds 5–4. After the matchup, Donahue responded to a ferocious night at the plate by exhibiting his tranquil demeanor.

"We took our base hits and our walks," Donahue said. "The pitcher got a little erratic at times and we were disciplined to our approach. That helped us out a lot and we put up some runs."

In similar fashion, Willhoite began his Chatham career going 1–15. It didn't stop him from carrying out a two-homer act on July 31 in a 6–4 win over Yarmouth-Dennis. But the pinnacle of the righty batter's summer actually launched into effect a game prior. Willhoite notched three RBIs and two hits in four at-bats to lead an 11–0 win over Harwich.

"Hitting is about confidence," Chatham interim manager Todd Shelton said at the time. "And now that he's [Willhoite] got some confidence, he's going out there every time with a plan."

Willhoite finished the season on a four-game hit streak in 11 at-bats. The A's captured wins in all four of those games.


5. Kaeden Kent and Deric Fabian enter Chatham's final game vying for the batting title

The Anglers rode a three-game win streak entering their final affair of the 2023 summer against eventual CCBL East-Division champion, Orleans. While there was no chance for Chatham to make the playoffs, there was still a tad of leftover competition.

The A's two top hitters, Kaeden Kent (Texas A&M) and Fabian, needed to settle who would claim the batting title.

To Kent's misfortune, for ironic reasons, Fabian's 3–4 day at the plate sealed the deal for Chatham's primary shortstop in a 14–12 win over the Firebirds on August 2. Fabian ended the summer with a .352 batting average—32 hits in 91 at-bats—and didn't post an on-base percentage below .400 in his final 19 games.

Kent, on the other hand, rallied up a mighty .329 batting average in just under 150 at-bats. He only added two home runs, but totaled 49 hits, 22 RBIs and 19 walks. The six-foot-three lefty and son of MLB legend Jeff Kent was referred to as a "caged-up tiger" by Holliday after garnering less than 90 at-bats in his freshman year with the Aggies. The projection rang true. By the end of Chatham's season, there was nobody with a better approach at the plate than Kent, who could lift hits to all corners of the outfield.

As maybe the final jab between the top two hitters, Kent took home both the Willard Nicholas Outstanding Player Award and the Ed Lyons Coaches Award while Fabian received the Silver Slugger Award for displaying the most power at the plate on the team. The friendly, but serious, competition that took place within Chatham's clubhouse was a spectacle to watch.