Champion NAIA Coach to Bring His Winning Ways to Cape Cod

CHATHAM, Mass. –
Jeremy C. "Sheets" Sheetinger, head coach of the Georgia Gwinnett College (GGC) Grizzlies baseball team, has been named manager of the Chatham Anglers in the Cape Cod Baseball League.
Sheetinger, 42, brings a winning tradition to Chatham. He joined GGC in 2020 and in his four seasons at the helm has won an NAIA national championship, posted two 50-win seasons and achieved an overall record of 170-36 (.825 winning percentage). In his three seasons leading NCAA Division III Spalding University's squad, he amassed an 86-43 record.
"It's obvious from his record at Georgia Gwinnett and Spalding that Sheets can put together and manage a baseball team," said Chatham Athletic Association President Steve West in describing one reason for the hiring. West added "Sheets' passion to coach in Chatham resonated with us. It's obvious he is genuinely excited and looking forward to interacting with our fans, our organization, our volunteers, and becoming part of the Chatham community."
Chatham General Manager Mike Geylin echoed West's comments and added, "I received numerous unsolicited recommendations and referrals for Sheets as soon as it looked like we would need a new manager for 2024. And when we did further research, every comment was positive.
"His resume, his knowledge of how the Cape League operates along with his relationships with coaches built through years of work with USA Baseball and the American Baseball Coaches Association, as well as relationships with pro-baseball scouts and advisors, all crucial to recruiting summer ball players, were decisive factors for me."
Sheets, who will continue to pursue NAIA championships at GGC, cannot wait to begin building his legacy in Massachusetts next summer.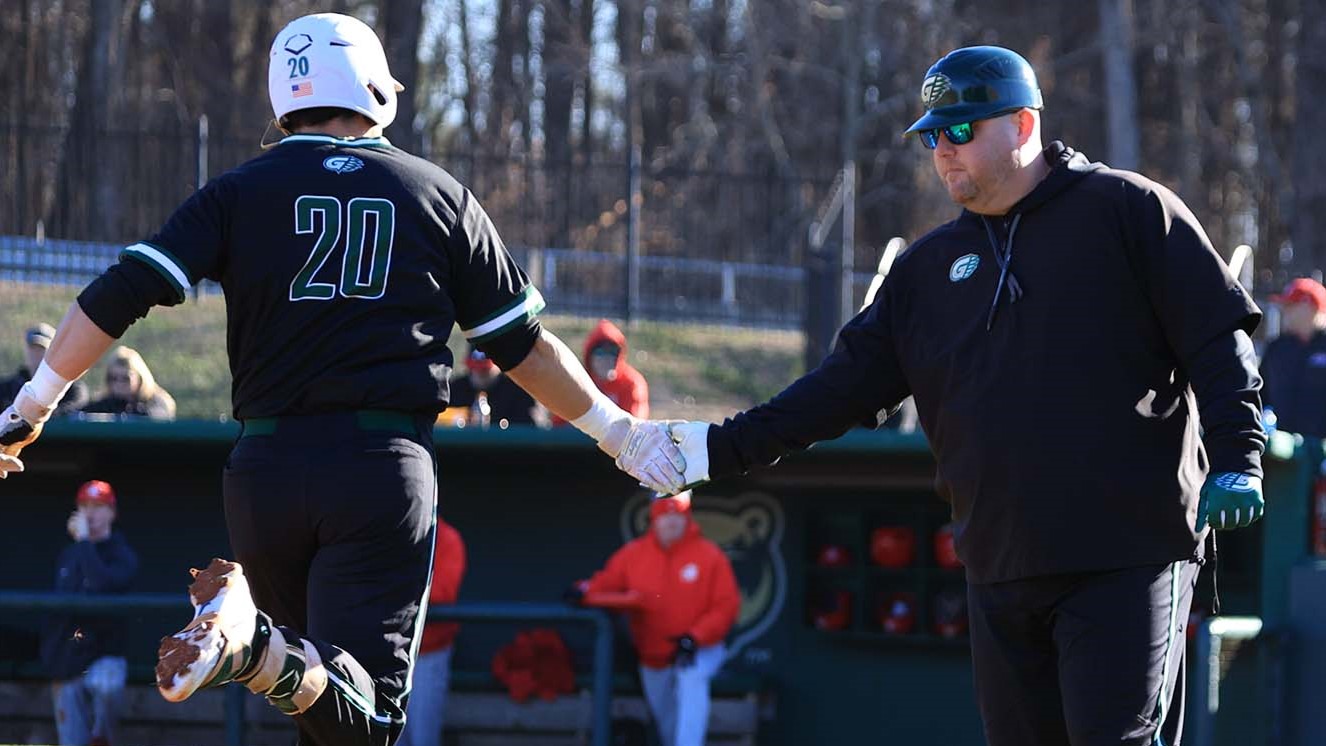 Jeremy Sheetinger greets Georgia Gwinnett batter rounding third base in a home contest at the Grizzly Baseball Complex Tom Grason / GGC Athletics

"First and foremost, I want to express my deepest thanks and sincere gratitude to Steve West, Mike Geylin, Bob Sherman and the CAA Board for this amazing opportunity to lead the Anglers," said the new manager. "Chatham is widely regarded as the premier organization inside the Cape Cod Baseball League and to be entrusted with the responsibility to help keep this organization at the pinnacle of this league is an absolute dream come true. My heart is beyond full right now!"
"What fires me up the most is the challenge in front of us. Injecting passion and positive energy back into Chatham, our staff and players will bring a competitive and fun culture and environment to Veterans Field, which our loyal fans deserve. We will work tirelessly and be unwavering in our dedication to solidifying the Anglers as THE best summer collegiate team in THE best summer collegiate league in the country."
Sheetinger's coaching experience also included being director of baseball operations at NCAA Division I University of Kentucky for three seasons, the lead assistant coach at NCAA Division II St. Joseph's College (Ind.) for two seasons, and assistant coach with NAIA programs at Brescia University (Ky.) and Georgetown College (Ky.).
In related, non-coaching roles, Sheetinger from 2016-19 served as the college division liaison for the American Baseball Coaches Association (ABCA). He was responsible for organization communications and relationship building within coaches and administrators at NCAA Division II and III, NAIA and junior college levels. He helped facilitate a 200-percent growth rate in ABCA membership and attendance records for three of the organization's annual conventions.
In addition, he has served as an associate scout for the Atlanta Braves.
He received a Bachelor of Science degree in fitness and sport management from Kentucky Wesleyan College in 2004. Sheetinger also earned a Master of Business Management from Brescia University in 2007 and a master of kinesiology and health promotion at the University of Kentucky in 2009.
Sheetinger and his wife, Chelsea, have a son, Cooper, and daughter, CJ.