Game 43 Preview: Brewster at Chatham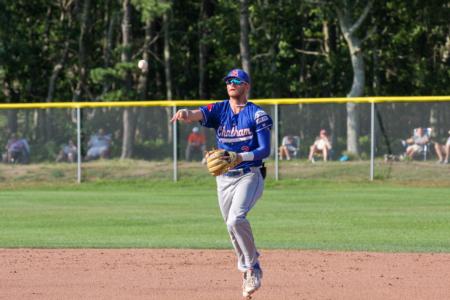 Chatham tallied just its second two-game winning streak this season in a 6–4 defeat of Yarmouth-Dennis on Monday. Trace Willhoite, who notched a homer in Sunday's away victory at Harwich, tallied two more home runs against the Red Sox. His three-RBI performance led the way for a hot Anglers offense which have now outscored opponents 17–4 across the last two contests.
Chatham will host Brewster in its final home game of the summer. The Whitecaps, who clinched their third consecutive postseason berth following the Anglers' 9–7 loss to Bourne on July 29, fell to Cotuit 5–4 last time out. Through five meetings this season, Brewster has won four. On June 11, in Chatham's season opener, the two sides tied 10–10.
Here's everything you need to know before the Anglers (13–27–2 East) host the Whitecaps (15–25–2 East).
Probable Starters

Starting pitcher Trey Gibson (Liberty) on July 16, 2023, at Veterans Field. Emma Connelly / Chatham Anglers


Trey Gibson (Liberty): Gibson has largely struggled this season, sporting an 0–3 record along with a 11.95 ERA across 23 1/3 innings pitched. However, in Gibson's most recent performance, the Liberty flame entered as a closer, fanning three in 1 2/3 innings pitched to clinch a 5–4 win over Orleans on July 28.

Patrick Forbes (Louisville): A 2023 Cape League All-Star, Forbes' last appearance came in relief against the Anglers. On July 26, he enjoyed his best outing yet, recording five strikeouts in three frames to help defeat Chatham 5–1. With Brewster this summer, Forbes holds a 2.20 ERA and 18 total strikeouts hrough 17 1/3 innings pitched.


Chatham Players To Watch


Deric Fabian (Florida): Though Fabian didn't garner a hit in Chatham's game at Y-D, his two-run homer at Harwich on Sunday added to a 11–0 thumping of Harwich. Fabian leads Chatham with a .325 batting average and has also tallied a team-high 16 walks.

Kaeden Kent (Texas A&M): Kent, arguably the Anglers' most prolific batter, comes into Tuesday off a two-run moonshot performance at Yarmouth-Dennis. The 2023 Cape League All-Star leads the Anglers with 17 RBIs and also possesses a .312 batting average in 141 at-bats.


Brewster Players To Watch


Davis Diaz (Vanderbilt): Arguably Brewster's hottest player right now, Diaz is riding a three-game hitting streak. On July 29 and July 30, Davis charted a home run against Orleans and Y-D, respectively. And, in his last two contests, Diaz has tallied five of his season total 15 RBIs.

James Tibbs (Florida State): Boasting a .308 batting average, Tibbs leads the Whitecaps with six home runs and 25 RBIs. He enters Veterans Field on a six-game hitting streak. In Brewster's last meeting with Chatham, Tibbs went 3-for-5 at the plate, batting in a run during the second inning.


Number To Know: 3


A Chatham win on Tuesday would mark a season-high three game win streak. On Monday, the Anglers strung together consecutive victories for just the second time all season. The first time came on July 17 and July 18 when Chatham defeated Wareham twice, 6–3, 7–2.


Last Time They Played


On July 26, Chatham lost to Brewster 5–1. The defeat marked a 10-game winless skid for the Anglers, dating back to July 16, 2019.

Though Chatham jumped out to a 1–0 lead in the top of the second inning, its six total hits failed to drive home any more runs. Brewster tacked on five unanswered, including a three-score bottom of the second, to see out a comfortable Whitecaps victory.