Game 42 Preview: Chatham at Yarmouth-Dennis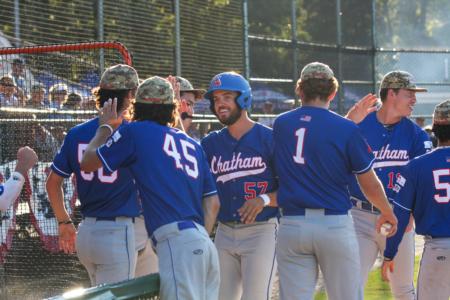 Chatham will take its second-to-last road trip of the season today, meeting Yarmouth-Dennis at Red Wilson Field for a 4:30 p.m. showdown.

The Anglers are coming off of an 11–0 trouncing of Harwich at Whitehouse Field on Sunday. First baseman Trace Willhoite, in the eight-hole, led Chatham's offense with two hits in four at-bats. He also produced a three-RBI moonshot in the top of the third inning to put the A's in front 7–0.

First-time starter Brayden Kurtz, a righty out of George Washington, worked through four scoreless innings with seven strikeouts against the Mariners. Chatham relievers Sam Simmons and Jack Brodsky finished the job, combining for four strikeouts in another five scoreless innings to seal the Anglers' shutout victory.

Here are the pregame notes for Chatham's (12–27–2 East) matchup with the Red Sox (23–17–1 East), who sit atop the East Division.


Probable Starters

Tommy Molsky (Penn State): In his second season with Chatham, Molsky has manufactured a 9.00 ERA in 24 innings pitched. The right-hander has nearly as many strikeouts in 2023 (14) as walks (13). In his last outing, a four-inning showing against Cotuit on July 27, Molsky registered three strikeouts and allowed four earned runs.

Jason Doktorczyk (Nevada Reno): With a record of 1–1 on the season, Doktorczyk boasts a 2.91 ERA in 24 2/3 innings pitched. The six-foot-six, 230-pound righty has garnered 24 strikeouts this summer to just 10 walks. Doktorczyk pitched six scoreless innings during his last time out, adding seven strikeouts en route to a 5–0 win over Orleans.


Chatham Players To Watch

Trace Willhoite (Lipscomb): Every batter in Chatham's lineup recorded a hit in Sunday's 11–0 win over the Mariners, so how can you not go with the guy who led the way? Willhoite has only notched three hits in 24 at-bats this summer but his first homer of the season in Sunday's victory could spark a hitting streak for the remainder of the season.

Hudson White (Texas Tech): After undergoing a tumultuous stretch through nearly the first three-quarters of the season, the light switch has finally been turned on for White. In the Anglers' last four games, White has tallied five hits in 12 at-bats and has scored four times.


Yarmouth-Dennis Players To Watch

RJ Austin (Vanderbilt): Austin owns a .330 batting average this summer (31 hits in 94 at-bats) and hasn't shown any sign of slowing down. The Commodore has managed four multi-hit nights in his last seven games played.

Zander Darby (California Santa Barbara): Although Darby typically sits in the bottom of the Red Sox batting order, his .298 batting average in 104 at-bats is not to be overlooked. The lefty swinger doesn't have the home run numbers (3) like Hunter Hines does (11) and he isn't the team-leader in batting average or on-base percentage. But his presence at the lower end of the lineup can be misjudged.


Number To Know: 11

Chatham's 11 runs in its victory over Harwich on Sunday accounts for the most runs the Anglers have produced in a win this season. Chatham managed a 12–12 tie with Cotuit on July 19 but had not won a game with at least 11 runs until last night.


Last Time They Played

Chatham fell to Y-D 7–4 on July 20. The Anglers couldn't stop the Red Sox from posting at least one run in four consecutive frames, from the fourth to the seventh, and let Yarmouth-Dennis add an insurance run in the top of the ninth inning.

Tommy Molsky, the projected starter for today's contest, was charged with the loss.