Chatham's 9–7 loss to Bourne on Saturday officially eliminated the Anglers from playoff contention. Though Brewster, who currently sits at fourth-place in the East Division, fell 10–6 to Orleans, a Chatham defeat handed the Whitecaps their third consecutive playoff berth.
With four games remaining in the regular season, the Anglers travel to Harwich for the last time in 2023. Through five prior meetings, the Mariners have won three and lost twice. Harwich enters Sunday's contest having already clinched a playoff spot. Last time out, it obtained a 7–6 win over Yarmouth-Dennis and is currently positioned at third in the East Division.
Here's everything you need to know before the Anglers (11–27–2 East) take on the Mariners (18–21–1 East).


Probable Starters
Brayden Kurtz (George Washington): Projected to make his Chatham debut on Sunday, Kurtz is a rising junior with the Colonials. In two seasons with George Washington, Kurtz averaged a 16.39 ERA in 18 2/3 innings pitched, notching 19 strikeouts.
Reid Easterly (Yale): In Easterly's first game with Harwich, he pitched two scoreless innings in a 7–6 win over Chatham on July 9. During his second appearance, the lefty continued to keep opponents off the scoreboard. But, in his third, and most recent outing, Easterly conceded three earned runs in a 5–3 loss to Hyannis on July 21.

Chatham Players To Watch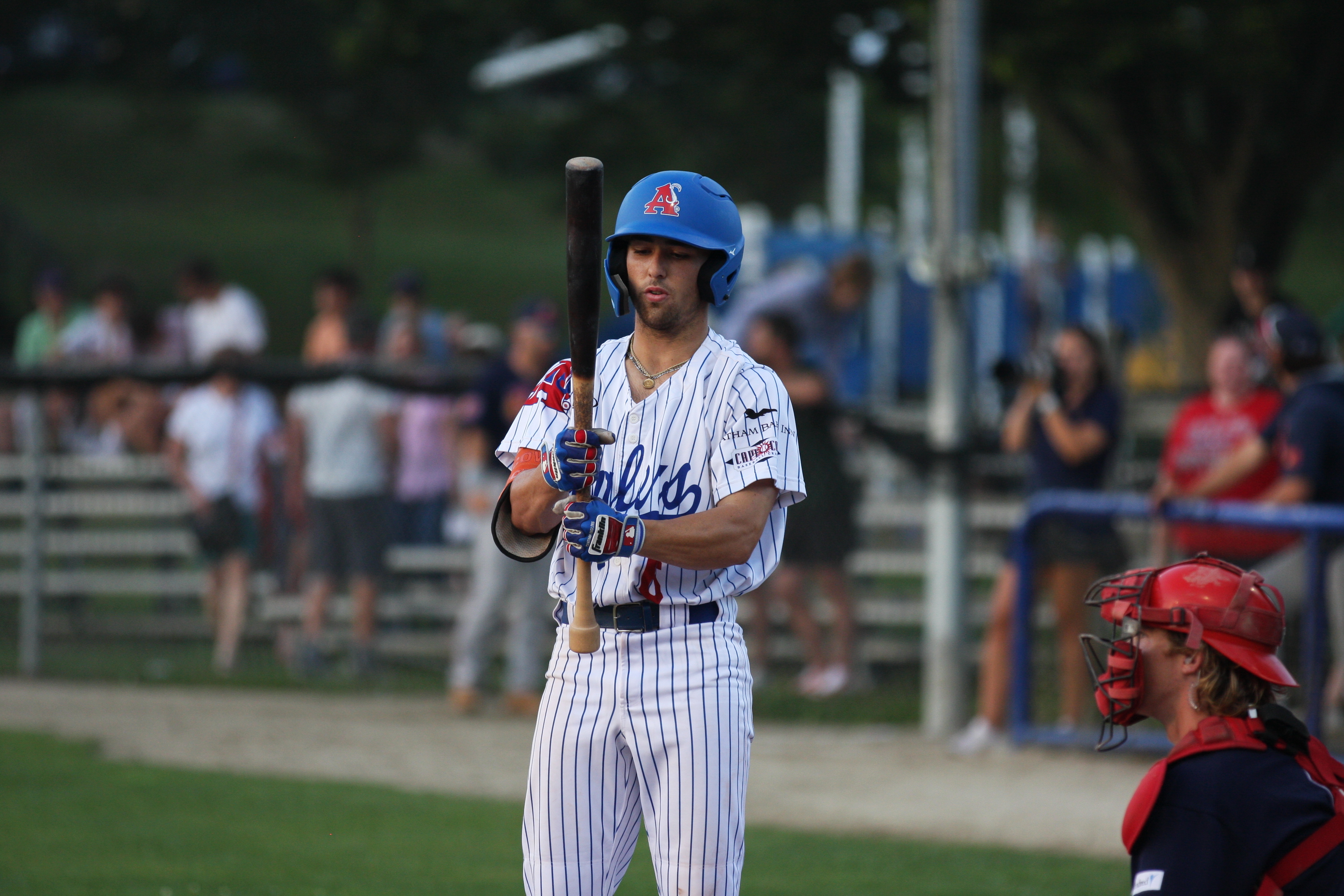 Outfielder Brennan Holt (Oklahoma State) on July 29, 2023, at Veterans Field.
Emma Connelly / Chatham Anglers
Brennan Holt (Oklahoma State): Though Holt has yet to produce an RBI in 22 at-bats this season, he enters Whitehouse Field on a three-game hitting streak. The Cowboy currently holds a .273 batting average this season, a large improvement from his .173 mark during the 2023 collegiate season.
Tyler Wulfert (Oklahoma State): Wulfert owns a .260 batting average through 50 at-bats for Chatham this season, and, like Holt, currently possesses a three-game hitting streak. On July 19, against Cotuit, Wulfert enjoyed his best performance to date, recording four RBIs during Chatham's 12–12 tie at Lowell Park.

Harwich Players To Watch
Devin Obee (Duke): Obee leads Harwich in RBIs (23) and home runs (5) while also earning 16 walks. On Friday, the Blue Devil produced five ribbies in a 21– 5 trouncing of Brewster. Obee comes into Sunday's contest fresh off totaling two moonshots in his last two outings.
Ali Camarillo (Texas A&M): On June 21, Camarillo, who holds a .221 batting average belted a walk-off single to propel Harwich to a 5–4 home win over Chatham. And, in the Mariners' last matchup with the Anglers on July 24, Camarillo registered two of his total 14 RBIs this season in a commanding 12–0 victory.

Number To Know: 15
Since 1967, the fewest number of regular season wins in Chatham Anglers history stands at 15.
But, with four games left this summer, the Anglers have totaled just 11 wins. A loss at Whitehouse Field on Sunday would mean that Chatham could only muster 14 victories at most, signaling its lowest win total in over 50 years.

Last Time They Played
On July 24, Harwich defeated Chatham 12–0 at Veterans Field to hand the Anglers their second shutout loss of the season.
Chatham starter Jack Seppings allowed three earned runs in two innings before the Anglers opted to cycle through four more arms. But, no member of their pitching staff could find an answer to the visiting bats.
After jumping out to a 3–0 lead after the opening frame, Harwich extended its advantage to eight through the fifth and sixth innings.
In the eighth, another four Mariner runs punctuated a commanding road victory.