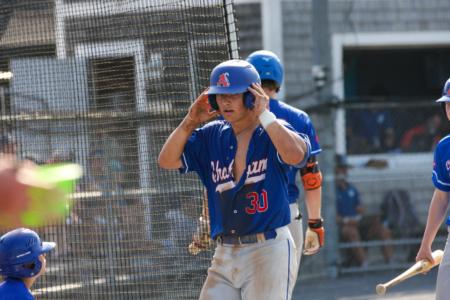 Stony Brook Field remained an impenetrable fortress against the Anglers on Wednesday.

The last time Chatham obtained a road victory over Brewster was on July 16, 2019. Through two prior visits this summer, the Anglers fell by a combined score of 12–3.

Meetings one and two showcased a mix of empty plate appearances and mound struggles. Former Angler righty Hayden Durke started in both games, on June 25 and July 2, giving up a collective nine runs in 8 1/3 innings. Chatham's position players, meanwhile, mustered seven hits and five total errors.

On Wednesday, with Chatham (10–24–2 East) positioned eight points away from fourth-placed Brewster (15–21–2 East), and the East Division's final playoff spot, the Anglers fell to the Whitecaps 5–1. The defeat, fueled by an inability to capitalize on six hits, practically shut an already-slim window for Chatham to secure its first postseason berth in three years.

"We had a lot of hard outs," Chatham shortstop Lane Forsyth said. "It didn't show on the scoreboard but we had a lot of hits today. We're going to keep scoring balls up."

Tyler Wulfert contorted his face in frustration. He whiffed on Brewster starter Darien Smith's third delivery. Two pitches later, he lined one directly into the glove of third baseman Hunter D'Amato to end the top of the first inning. Wulfert's putout left Nolan Schubart stranded to bring up the Whitecaps' bats.

Sandwiched between two Brewster groundouts to second, James Tibbs took a ball to shallow center field for the home side's first hit. Tibbs advanced to third base after a miscommunication in the Anglers' infield forced Kyson Donahue to leave his post at first.

Chatham starter Carson Pierce induced a weak pop-up from Will Turner, however, to end the opening frame.

"I thought Carson did a nice job on the mound," Chatham acting manager Marty Lees said. "He left some balls up early but got better as the game went on."

The Anglers charted three consecutive hits in the top of the second inning to take a 1–0 lead. Forsyth belted a single to center field and a Gavin Mez dribbler put two runners aboard. Deric Fabian, Chatham's team leader in batting average (.393), then drove in Forsyth by placing one over the head of Brewster second baseman, Mason White.

"Our swings tonight were much more aggressive than they have been early," Lees said. "Even though there were outs, there were some hard hit balls. I felt good about the plate."

Lees opted to replace his catcher, Mez, with Jayden Melendez, however, in the bottom of the second inning. Lees' reasoning was simple. Leadoff batter Kaeden Kent had laced a surefire one-run single to continue a productive second frame with Mez perched at second. But, as Mez sped ahead to tack on another score, he failed to touch third base.

An appeal for the inning's third out emerged from Brewster's dugout which home umpire Ryan DiMare granted. A confused Kent questioned the decision but Lees didn't put up a fight on his trot away from the third-base line.

"We had a phantom call at third base which was, well, crap," Lees said. "He [Mez] touched the base. That was a huge point in the game."

Chatham outfielder Brennan Holt sprawled forward in diving fashion but was slightly late. He had overestimated the power in White's effort. Stranded in center field, the ball one-hopped Holt's outstretched glove and escaped near the surrounding fence before trickling to a stop in the bottom of the second frame.

With a Brewstser runner on first, Wulfert raced to Holt's aid from right field to mitigate any further damage. D'Amato rounded the bases quickly to score, tying the matchup at one apiece and handing White an RBI triple.

"I sensed a lack of concentration at times," Lees said. "It can be taxing but this is what they signed up for."

Holt's mishap triggered two more runs as White scored after Michael Robertson singled to left field. Robertson was later driven home off Tibbs' second connection of the contest.

Then, White made the most of Chatham's scoreless top of the third inning, notching his second RBI of the afternoon to create a 4–1 Whitecaps' advantage. He finished with a game-high three RBIs in four at-bats.

Chatham reliever Aiden Jimenez replaced Pierce with two outs in the bottom of the fifth inning. Pierce, who enjoyed a seven strikeout showing on July 18 in his Anglers debut, stepped away with four earned runs on eight hits.

Moments prior to Pierce's exit, an uninterested and sluggish Chatham infield allowed D'Amato to flip a standard base hit into a surprise triple.

"There's no intent by it, but it happened," Lees said of the error. "It doesn't look very good. It looks like they're uncoached."

Jimenez, a 2023 Cape League All-Star selection, immediately conceded a triple to White which allowed D'Amato to saunter home.

Following Chatham's 12–0 loss to Harwich on July 24, Lees summarized the defeat bluntly. He voiced that there were "very few games" where the Anglers' pitching, defense and hitting had come together throughout the season. On Wednesday, amid a pivotal chance at inching closer to a playoff spot, the issue stood at the plate.

Down 5–1 after the fifth inning, Jimenez successfully shut down Brewster's bats across the final four frames but the Anglers' offense failed to build off of his efforts. Aside from Fabian's quick RBI to spark a hopeful outing in the second frame, Chatham managed to occasionally place runners on but couldn't find the critical final knock.

"I mean he's just nails," Lees said of Jimenez. "He's one of the best pitchers in this whole league and he's going to be one of the best pitchers in the whole country."

Donahue earned a walk and Forsythe produced a sacrifice grounder to move the Chatham first baseman to second. With a single out to work with, Melendez flew-out to right field.

Fabian, who stood on deck, sighed. He didn't get to swing. His blue and red Franklin brand gloves loosened around the roll of white tape around the end of his wood bat. Fabian dipped his head dejectedly and walked back to the dugout.

"Sometimes things just don't go as planned," Lees said.