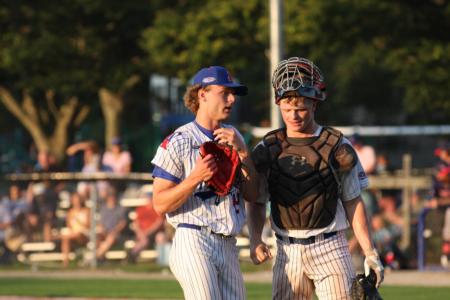 Tyler Wulfert stood at first base. Nolan Schubart held a considerable lead off of third. Down 8-0, Chatham owned zero outs in the bottom of the sixth inning.

It took six pitches for Kyson Donahue to strike out next. Lane Forsythe, making his Chatham debut, followed suit but Hudson White earned a walk.

Deric Fabian stepped up to the plate for his third at-bat. He had previously gone 0-2 against Harwich starter, and his former college teammate, Blake Purnell. This time around, a new opposition pitcher stood on the mound.

Facing Mariner reliever John Holobetz, Fabian's luck didn't change. He came up empty for a third straight time and left a pair of runners stranded.

There wasn't much of an expectation for the Anglers to overturn their vast deficit in a single half-inning. But, the eight-run hole should've probably condensed by a slight margin.

"We just couldn't get that one knock," Chatham's acting manager Marty Lees said.

Before Monday night, the last time Chatham suffered a shutout was against Brewster on June 25. The last time it experienced a shutout at Veterans Field was on June 20, 2022. In their fifth meeting with Harwich (16-19-1 East) this season, the Anglers' bats posted nine hits but tallied 12 strikeouts. Forced to play catch-up after conceding three runs in the first inning alone, Chatham (10-22-2 East) slumped to a 12-0 defeat.

"We didn't really compete anywhere on the field today," Lees said. "That's on me, I've got to have them much better prepared than that."

Game 2 of Chatham's doubleheader at Orleans on Friday showcased Jack Seppings' first poor outing. Going into the game with a 0.84 ERA at the time, the righty gave up two earned runs in 1 2/3 innings.

On Monday, the Mariners punished Seppings early. Ethan Anderson put Harwich up 3-0 with a two-run homer in the bottom of the opening frame. Entering his second start this summer, Seppings had allowed just three scores in 12 1/3 total innings pitched.

"Seppings is a great pitcher," Chatham reliever Zach Harris said. "Tonight he didn't just have his best stuff but he still did a good job minimizing damage especially with guys on."

After the visitors eliminated Chatham's side in 1-2-3 fashion, Harwich swiftly put two runners on to begin the bottom of the second. Although it seemed like every Mariner barrel managed to connect with Seppings' deliveries, Devin Obee lined out to Fabian at shortstop who flipped the Anglers' league-leading 28th double play of the season.

Harris took the mound in the top of the third inning and bumped Forsyth's leather after his warm-up. Then, Harris pelted Kaelen Culpepper on his upper back. Harris did well to recover, however, by fanning Anderson and inducing two consecutive fly-outs.

"I think the biggest thing was just keeping us in the game," Harris said about his mentality in relief. "Just come in, throw strikes, get opportunities to get guys out. You really don't want to make the lead for the other team bigger."

Kaeden Kent laced the Anglers' first hit of the contest down the third-base foul line to awaken a flat home crowd. The connection marked a seven-game hit streak. But, the brief momentum rapidly ceased when Bryce Martin-Grudzielanek grounded out to first, ending the third frame.

"Kaeden just continues to grow," Lees said. "He's one of the hardest workers we have on the field and he's been good all year. You can count on his concentration no matter what the score is."

Harris used his pinstriped sleeves to wipe away sweat and garnered two quick strikes in the top of the fourth inning. He struck out Harwich's designated hitter, Kevin Keister, two tosses later. In two full innings since taking over for Seppings, Harris kept the Mariners scoreless.

"Pounding the strike zone really helped me," Harris said. "I got some broken bats, got some ground balls."

Harris' early successes in relief prompted the beginning of a pitcher's battle. After giving up just two Angler hits across three innings, Purnell relinquished singles from Donahue and Forsythe in the bottom of the fourth frame. White produced a weak grounder to return the Anglers' defense.

Donahue backpedaled rapidly. He twisted and turned in search of a Culpepper fly ball. Racing back toward the left-field porch, he watched helplessly as the effort dropped against the fence and nestled into a pocket of blue fabric.

Though Donahue reacted efficiently to limit anything more than a single, the bases became loaded. Equipped with a single out in the top of the fifth inning, Harwich stockpiled on its lead. An Anderson sacrifice fly scored Jacob Humphreys from third.

Against the Mariners' six-hole batter, Ali Camarillo, Harris reached a full count. His seventh delivery escaped White's grasp and collided with the stout, red-brick wall behind home plate. Obee, spurred on by shouts of encouragement from third base, gave Harwich a commanding 5-0 lead.

Lees briskly returned to the Anglers' dugout. Despite Harris' optimistic beginning, Lees chased his second arm off the bump after 3 2/3 innings and five combined runs between the fifth and sixth frames. Newcomer Ryan Verdugo emerged from the bullpen.

"Zach would be the first one to tell you that he's a better pitcher than what he showed tonight," Lees said. "Credit to Harwich, they came out and ambushed the fastballs right from the get-go."

Kent continued to be the lone bright spot among Chatham's struggling bats in the bottom of the seventh inning. He notched his third hit to shallow right-center for a single. Yet, Martin-Grudzielanek placed an unfortunate roller to initiate a double play.

The Anglers continued to flail on both sides of the ball through the final two innings. They surrendered a Camarillo two-run double and an Elijah Lambros two-run single. The Chatham faithful, who initially lined the blue and silver bleachers in anticipation, sluggishly packed up their lawn chairs and blankets.

The few who remained were treated to a position player pitch in the A's 12-0 loss.

"That's not the standard of expectation for a Chatham Angler," Lees said.