Donning a gray windvest, Mike Lowell pounded his fist diligently inside the home dugout at Veterans Field. Chatham's entire roster, either positioned on the dirt-chipped benches or leaned against the army-green railing, listened closely.
It wasn't the first time Lowell had eyes on him in Chatham.
For Lowell, the 2007 World Series MVP, playing for Chatham in 1994 wasn't just a stepping stone. It was a confidence builder. Lowell said he proved to himself that he could play in the pro's because of his time with the A's.
Lowell's visit to Veterans Field on July 10 was his first since being inducted into the Cape Cod Baseball League Hall of Fame in 2011. He was there to give Chatham's players his advice.
Chatham taught Lowell how to seamlessly transition between different positions on the field. His Cape League career prepared him for big-league conversations with scouts and coaches. Above all, Chatham created a life-long bond with his former manager, John Schiffner, and the town itself.
Accepting the Adjustments
Before Lowell entered the Anglers' dugout, he approached Schiffner.
Lowell, unveiling an exuberant grin, belted out a "What's up, man!"
Schiffner, dressed in a yellow rain jacket—the type that looks precisely tailored for a retired Northeast fisherman—embraced Lowell.
To have a coach who was vested in player and character development was key for Lowell. He said he never felt alone when Schiffner managed his side. And Schiffner made Lowell feel that way in just his first full season as Chatham's manager.
On the field, Schiffner relocated Lowell from second base, which Lowell manned at Florida International University, to third. Lowell then played at third for 13 years in MLB as a World Champion. Lowell's tall frame and wide body stance fit better in the hot corner, Schiffner said. The New York Yankees saw that in Lowell when they selected him as a 20th-round draft choice in 1995.
"You could see that second was a little fast for him [Mike]," Schiffner said. "He was built like a linebacker and he was struggling on turning two. He was fine for Florida International but if you go to the next level, you know, we looked at each other and said, 'Might wanna try third base.'"
Schiffner called up Lowell's head coach at the time, Rolando Casanova, to make him aware of the position change. Casanova, who had previously coached in the CCBL with Orleans and Brewster, trusted Schiffner and was sold on the transition. Lowell stayed there for the rest of his career.
"You're not gonna have one set guy at each position in this league," Lowell said. "It's a game of adjustments. If you got a stud that's a shortstop and you're a shortstop that's not as good, well, your versatility could put you in line to play other positions."

Interacting on a Professional Scale
Lowell turned from left to right, scanning the dugout to meet eye-to-eye with just about every player. Words started pouring out.
"I really struggled in Virginia after my freshman year," Lowell said of playing for the Waynesboro Generals in the Shenandoah Valley region of Virginia in the summer of 1993. "So, first of all, to get invited [to Chatham] was an honor. It oriented my mindset to like, 'I can get recognized.'"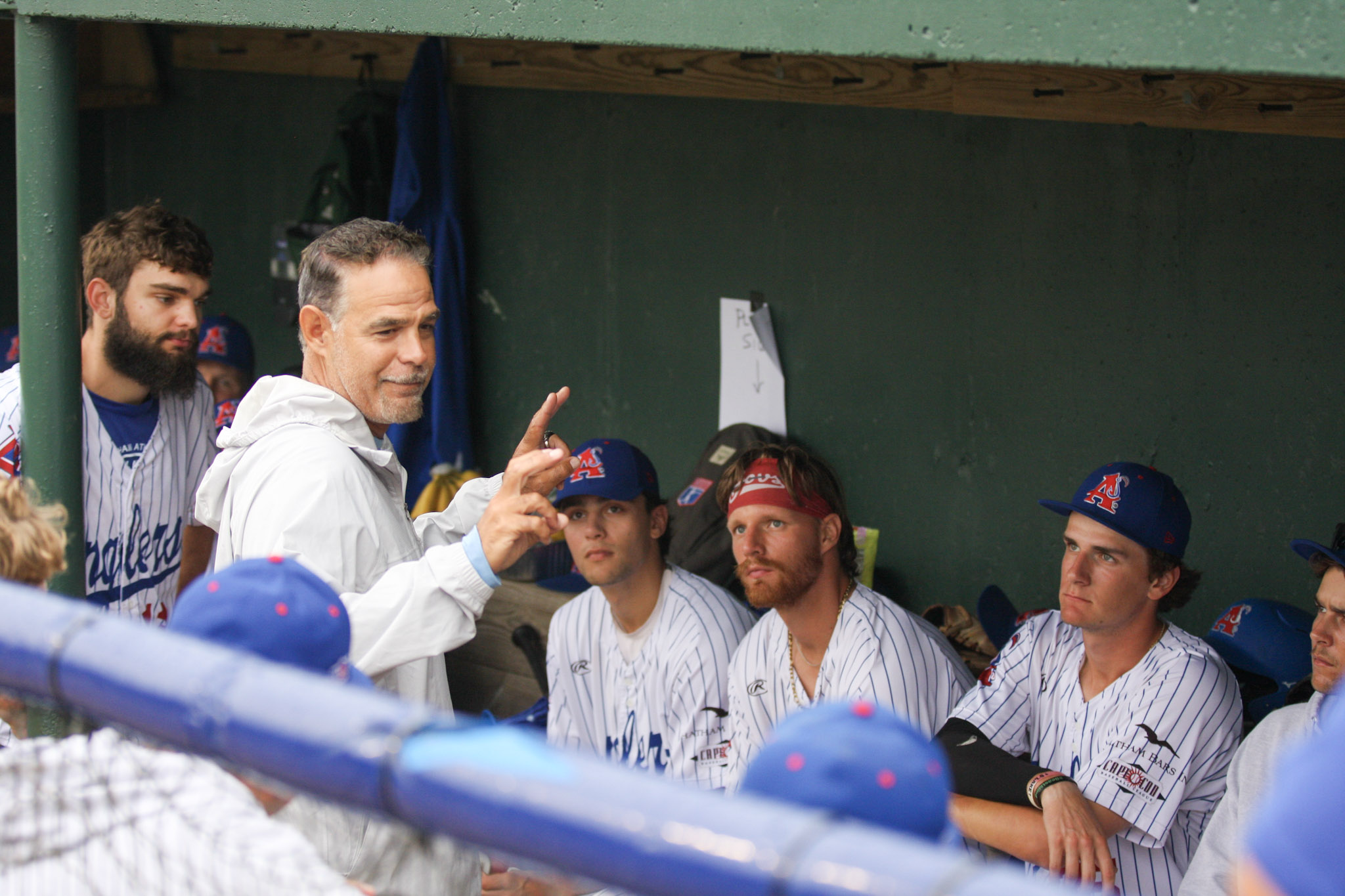 When Lowell suited up for the Anglers 29 years ago, scouts watched him solely in-person and would speak with him after every contest. Nowadays, he said, these personal interactions have diminished.
"There was no social media and this [the Cape League] was a place where all the scouts were," Lowell said. "Seeing you in-person was different. Seeing yourself was different. I want them [the players] to take that into account, because they need to know who they are first."
Viewership of the sports world is in a new dimension, Lowell credited. But a loss of personal space has resulted in a lack of what Lowell phrased "healthy self-criticism"—the type of self-criticism that he thrived on during his Cape League tenure.
"This was a place where a lot of scouts wanted to get to know who the player is," Lowell said. "So I wanted to know who these guys were. Because you do feel like if you performed here, you would open some eyes to not only your ability but your character. This is a great place to learn about yourself and how you interact on a professional scale."
The Standards of Competition Remain
Measuring up against other college players was what motivated Lowell during his CCBL career, he said, just like most players today. But when he looked into Chatham's dugout, Lowell's attention turned elsewhere.
"I look at the kids in the dugout and they're all big," Lowell said, chuckling. "The physicality and how nutrition and the whole attention to what you put in your body and the work you put in is much more advanced. I relate to guys having to come in everyday to try to improve in some aspects, respective to their own time."
Lowell explicitly stated to the Anglers that nothing beats hyper-focused work. Breaking down every moment and focusing on the individual bricks—not "the brick wall"—is how Lowell progressed throughout his career, he said.
"My big thing is to compete everyday," Lowell, who notched the league's fifth-most hits (51) and posted a .307 batting average in 1994, said. "I think some people think that means just put a uniform on. It's so much deeper than that."
Lowell said to narrow everything down. For the batters, he said to hone in on every pitch and not every at-bat. He challenged Chatham's pitchers to not think inning to inning. Instead, he instructed them to break down the execution of every pitch and every pitch type.
"The end goal here is not to be a good Cape League player," Lowell said. "It's to use the Cape to hopefully extend your career to go further than that. That margin of error gets really small as you move up. I call it a relentless pursuit to compete. That's the difference in winning and losing the game."
A Home Away From Home
For Lowell, Chatham is still a family. He told the players to not take that for granted, because they'd be back someday too.
Little moments that stem for Chatham will always be with Lowell, he said, and Schiffner attested to that. Taking advantage of the community and the town was just as important as playing on the team, according to Lowell, and he told the players to remind themselves of that everyday.
One moment that sticks out to Schiffner and speaks to how Lowell stayed connected with Chatham occurred on Nov. 19, 2011, when Lowell was inducted into the CCBL Hall of Fame.
Following the ceremony, the two enjoyed dinner at Alberto's Ristorante in Hyannis, Mass. Toronto Blue Jays manager John Schneider and David Bush, who played for Chatham from 2000 to 2001, joined them.
"We're just kinda sitting there and I don't think they knew one another but of course just had the major-league bond," Schiffner said of Schneider and Lowell. "Schneider, who's funny, goes, 'Lowell, I double-dog dare you to come to The Squire with us.'"
Schiffner said that Lowell initially refused Schnieder in a joking manner.
"I don't remember what the dare was," Lowell said at Veterans Field on July 10. "But I'm not afraid to go to The Squire."
Eventually, Lowell caved.
"Mike goes, 'God dammit, alright,'" Schiffner said. "So Mike's got his mom and dad and his wife. He tells them we're gonna go to The Squire."
Located in the heart of Chatham on Main Street, The Squire has two sides. The left houses a classic bar scene, vibrant with maps, signs and decorated license plates. The right is a family-style restaurant, seeded with wooden tables and vased plants.
Schiffner said Lowell knew exactly which side belonged to him that night.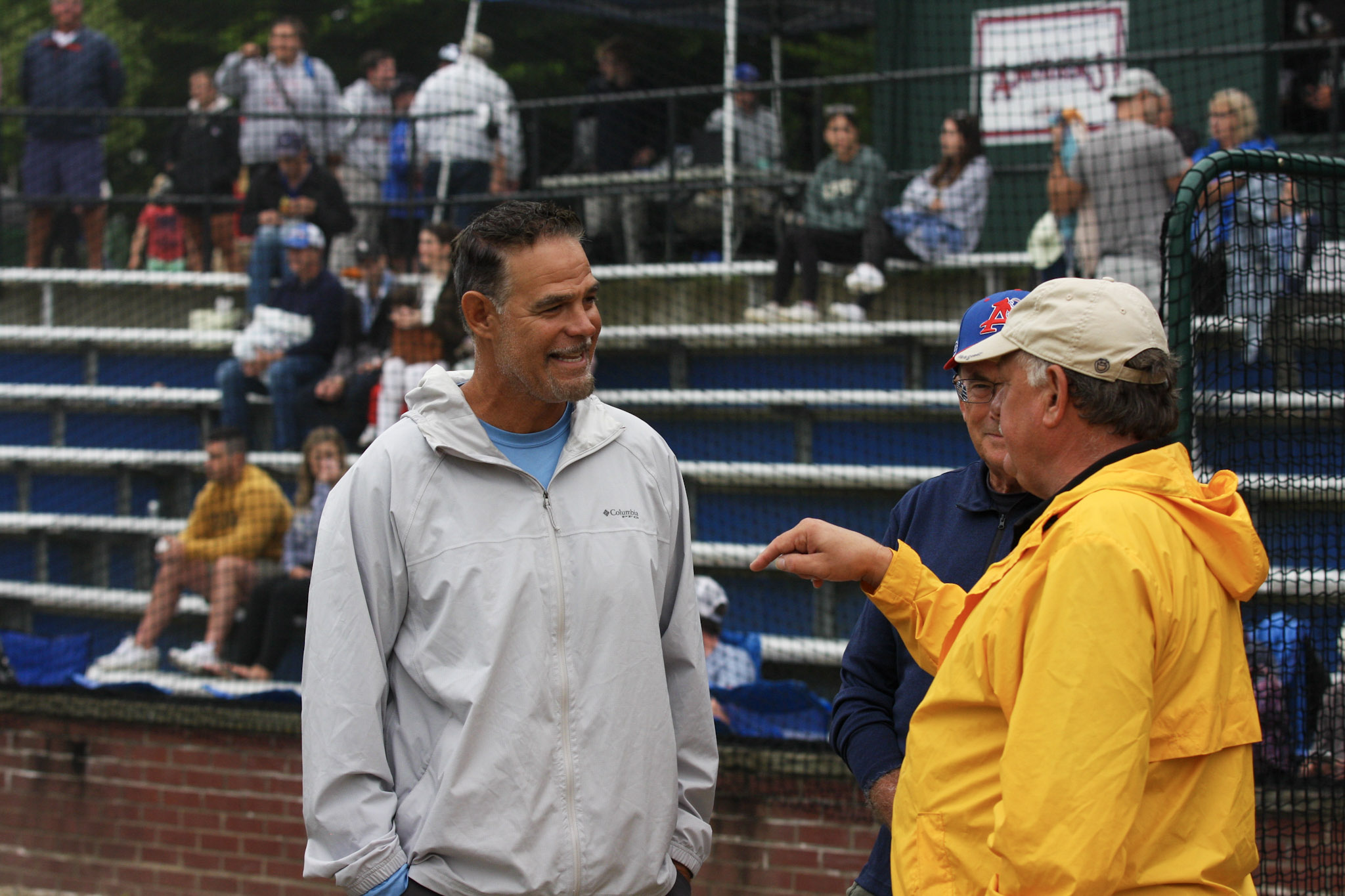 Nobody recognized Bush and Schneider when they first arrived. But when Lowell walked in, an epic scene unwinded—something out of a movie, Schiffner described.
"In walks Mike Lowell," Schiffner said. "There's a band playing, only about nine to 10 people. It's a Friday night. Well, Mike walks in and I'll tell you that within about 20 minutes, it was mobbed."
Just four years after being named the 2007 World Series MVP and just one year after he retired in Boston in 2010, Schiffner said the former MLB third baseman was treated like a hero. But what surprised Schiffner the most was how Lowell handled the hoards of Chatham residents eager to greet him. His dignity and light demeanor impressed Schiffner.
"I'll tell you what—he was the most gracious person ever," Schiffner said. "He hugged every person, kissed every baby, shook every hand. He walked around carrying a bottle of beer just saying hi to people. That, I'll always remember about Mikey. That night."
Reliving the scene on July 10 struck a more distant chord with Lowell, but he didn't forget about it. He said he never forgot this place.
"That was the Chatham way," Lowell said.