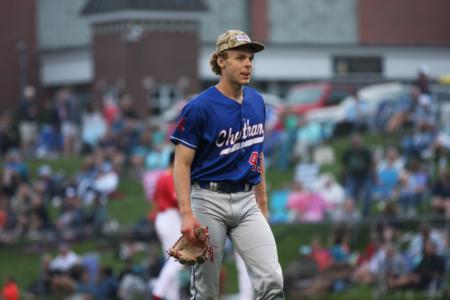 Gavin Mez flipped off his mask and frantically chased the ball. It wasn't the only thing scuttering away from him.

With no outs and a runner on first and second base in the bottom of the fourth inning, Orleans' Fenwick Trimble bunted down the third-base line. Mez, Chatham's catcher, was equipped to record the force out at third. But the ball kept moving, just enough for Matt Halbach to reach third base and for Trimble to grab first.

By the time Mez picked up the roller, Halbach was looking at him from third base. Mez rolled over on a pivot and fired to first but the runner arrived safely too.

Right-hander Jack Seppings, manning a 0.84 ERA, replaced Chatham's starter Maxx Yehl with the bases loaded. And Seppings did exactly what was asked of him.

Facing a one-out, bases-loaded situation, the righty out of Brown orchestrated back-to-back strikeouts to keep the Anglers within one run of Orleans. After fanning Colin Tuft, the final batter in the frame, a band of Chatham relievers and bench players greeted Seppings with open arms. Chatham acting manager Marty Lees was right ahead of the pack, waiting to be the first one to fist pump him.

While Seppings provided just the spark the Anglers needed in the frame, Orleans (17–16–0 East) went neck-and-neck with Chatham for the rest of the affair. The A's pitching staff combined for just three earned runs in the contest but an Eddie Micheletti Jr. walk-off sacrifice fly bested Chatham (10–21–2 East) in its 4–3, seven-inning loss.

"To have someone that's as reliable as Seppings is great," Lees said. "He made a big stop and it was good energy for our dugout. We just didn't come away with it after."

Orleans starter Greysen Carter caught Bryce Martin-Grudzielanek looking in the matchup's first at-bat. Grudzielanek cocked his head to one side in disagreement as Carter proceeded to manufacture his first 1-2-3 inning.

Yehl quickly surrendered a leadoff double to Jo Oyama, who produced his first home run of the season in Game 1 of the doubleheader. Yehl moved through the next three Firebirds with ease, fanning two and inducing a groundout to Halbach in the bottom of the first inning.

"Maxx started off the game really, really good," Lees said. "He told us he was running out of steam, so we were getting Seppings ready, but I appreciated Maxx doing that because it's a long summer. He was honest."

Carter, who entered the affair with a 0.00 ERA through 6.1 innings, didn't break a sweat in the next frame. The hard-tossing righty walked Kyson Donahue but struck out Aidan Meola to tally another scoreless inning.

"He threw a lot of fastballs and his fastball has a kind of inconsistent shape," Kaeden Kent said. "Sometimes he'll cut it, run it. But its a quick ball. We're out here facing guys that throw 90 and then a guy like him comes up and it's eight miles an hour faster."

After a strenuous bottom of the first, Yehl enjoyed a 1-2-3 bottom of the second frame, notching a strikeout on Owen Carapellotti in the process. Oyama then showcased his surprising power once again in the bottom of the third.

The five-foot-seven lefty dug into the left-handed batter's box and revved up his bat, which dwarfed Oyama's upper body. Yehl delivered a side-bender that crept into the zone but Oyama instantaneously read the pitch. In one swift motion, the Firebird lifted a towering shot into Orleans' bullpen in right-center.

"He's maybe the best player right now in the league," Lees said of Oyama. "It wasn't a pitch we could've struck him out on but he made the right contact with it."

After Yehl juiced the bases in the bottom of the fourth inning, he made way for Seppings who painted two clutch strikeouts. Kent took advantage of Seppings' game-salvaging momentum, belting his first home run of the season.

"Baseball is a very, I guess, domino effect sport," Kent said. "I saw the runners we had on second base, we had less than two outs, and I just wanted to get a hold of a ball. And that was a big out for Sep. He came in, bases loaded, and kept his composure, was able to compete."

Kent left yard over the right-field fence at Eldredge Park to give the Anglers a 2–1 lead but a two-run Micheletti looper allowed the Firebirds to steal that advantage right back. Orleans' lead was short-lived too.

In the top of the sixth inning, with runners on third and second base, Zach MacDonald blooped an infield single to third base, which scored Donahue to knot the game at three apiece.

Lees opted to replace Seppings with Jack Brodsky in the bottom of the frame. After garnering two speedy outs, Brodsky surrendered a single to Tuft. Tuft raced to second base, stealing the bag, which elicited Lees to intentionally walk Oyama. Jack Penney whiffed on strike three in the next at-bat, though, letting Brodsky walk away unscathed.

Chatham left a runner stranded in the top of the seventh to give Orleans a chance to walk the game off. With one out, Brodsky set and delivered to Micheletti. The lefty batter watched it hang until it fell perfectly into the domain of his black-tipped barrel.

Micheletti let it rip, roping a double to deep right-center, and a high bouncer from Trimble ate up Grudzielanek to put Firebirds on the corners.

Carapellotti fisted a foul ball into the trees behind the protective netting and onto Route 28 South. Brodsky kicked and offered but Carapellotti knifed a sacrifice fly to left field to salvage the doubleheader split with a 4–3 win.

"Those were a couple of hard-fought games," Kent said.