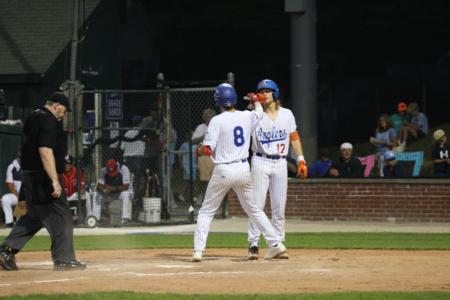 Aidan Meola maintained a straight face as he rounded the bases and tapped his foot on home plate.

He lifted his royal blue helmet and clinked the headwear of the next two Anglers on deck, Bryce Martin-Grudzielanek and Jayden Melendez. But, Meola's grin could no longer be held back as he entered the third base dugout.

Reaching the halfway point of the 2023 season, it was no secret that Meola had been struggling. He even echoed that sentiment after a 7–6 loss to Harwich on July 9, citing an unsatisfactory beginning to the summer. Through 22 games with Chatham, the third baseman possessed a .175 batting average. In the A's last affair, at Bourne, Meola was a frustrated recipient of four consecutive strikeouts.

His solo home run Thursday night, destined for the left-field trees in the bottom of the fifth inning, changed everything.

"I got ahead in the count which I haven't been doing lately," Meola said. "I got here early today to work on some stuff, got ahead, got a good pitch, put a decent swing and it worked out."

The Anglers could finally rejoice after a tumultuous last week. Following four straight fog-outs at Veterans Field, and an unexpected resignation from former skipper Tom Holliday on Tuesday, Chatham (7–15–1 East) obtained its first shutout victory since June 13. The A's pitching staff combined with solo home runs from Meola and Zach MacDonald to hand East Division leaders Yarmouth-Dennis (15–11–1 East) a 3–0 loss.

"It's just a testament that if you play good baseball, you have a chance," Lees said. "Today we saw very good pitching and very good defense. That's good baseball."

Chatham's Ben Peterson fanned Y-D's Enzo Apodaca on five pitches and induced back-to-back fly-outs to end the top of the first inning.

During Chatham's initial turn at the plate, it was clear that Y-D had done its homework. Facing lefty batters Kaeden Kent and Nolan Schubart, Red Sox manager Scott Pickler instructed his infield to shift to the left side of the diamond. Kent's grounder was snuffed out comfortably by second baseman Brady Day, who had repositioned himself in shallow right field. Day then collected a near-identical effort from Schubart.

Peterson entered Thursday's matchup after posting four strikeouts in three innings during his last outing. The righty continued to make quick work of the opposing side, fueling an optimistic Anglers' beginning.

Pickler's tactics kept foiling Chatham's hitters in the second frame. Y-D starter Finnegan Wall conceded his first walk of the contest to Trace Willhoite and the Red Sox defense relocated rightward in preparation for Meola and Martin-Grudzielanek. Meola produced a pop-up and Martin-Grudzielanek grounded out at short.

"We were hitting balls hard and that's all you can do," Chatham's acting manager Marty Lees said. "The key about big shifts like that is you got to get a runner to first base."

Peterson gave up the game's first hit in the bottom of the second inning before pelting Red Sox catcher Connor Dykstra. After garnering his third strikeout, Peterson intentionally walked Hunter Hines, the Cape League's home run leader. The apt decision loaded the bases but Chatham shortstop Deric Fabian helped Peterson escape the jam after Yarmouth-Dennis' Zander Darby fired a shot directly at the Florida infielder.

Both Peterson and Wall breezed through the third and fourth inning. Though Yarmouth-Dennis put three balls into play, its barrels were quickly thwarted. Wall, meanwhile, cruised through Chatham's offense, forbidding the Anglers to tally a single hit after four frames of action.

Lees motioned to the bullpen with two outs in the top of the fourth frame amid a seemingly congratulatory discussion with Peterson on the mound. Out came Jack Seppings who utilized just two pitches to finish the inning unscathed. Following Meola's homer, which was also the Anglers' first connection of the contest, Seppings continued to silence the Red Sox.

"Well Ben's last two outings have been nothing less than superb," Lees said. "He's working very hard and he's just attacking the zone. Seppings came in and done what he's done the last couple of times. He's good against both right and left [batters]."

In the bottom of the sixth inning, Fabian arrived at third base by way of a sacrificial Xavier Casserilla bunt. Kent belted a single into left-center field on Wall's next toss to bring Fabian home, giving Chatham a 2–0 lead. But, Kent was left stranded as Schubart and Willhoite struck out.

MacDonald charted the Anglers' second moonshot of the matchup in the bottom of the seventh frame. He was the first batter that Yarmouth-Dennis reliever Blake Aita faced. Aimed for center field, MacDonald's riser eventually dropped outside the fence to tack on a third run for Chatham.

Confronted with a bases-loaded, one-out situation in the top of the eighth inning, Lees didn't hesitate to chase Kansas' Gavin Brasosky off the mound. Brasosky had given up a hit and two walks to juice the bases, casting Chatham's fourth pitcher of the evening, Aiden Jimenez, into a loaded-base situation. An unfazed Jimenez needed four deliveries to generate a weak bouncer into the path of Fabian for a double play.

"When we have an Oregon State Beaver in the bullpen, Aiden Jimenez just came in and he had ice in his veins," Lees said. "He's a ground-ball pitcher and the way we've been playing infield defense as of late, they're outs."

Lees left his chair and entered a crouch, one hand on each knee. He stared out at Jimenez, who stood motionless, eyes locked on Y-D's Max Viera. The count read 1–2 with two outs in the top of the ninth. Jimenez entered his windup and dealt, prompting Lees, along with the rest of Chatham's dugout, to rise in anticipation from their static positions.

Viera whiffed and Lees pumped his fist, an emphatic reaction built out of relief and excitement. Jimenez's first strikeout of the night capped off a 3–0 Chatham victory.

"It was one with the basic fundamentals of the game of baseball when we're facing a team like that," Lees said.