Fog postpones Anglers and Gatemen at Veterans Field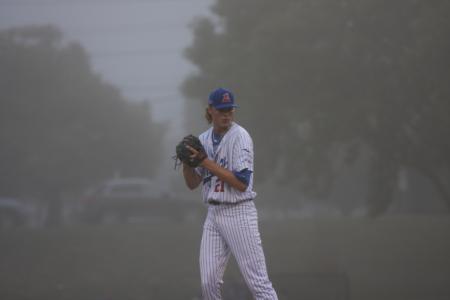 Chatham's home game against Wareham on Monday has been suspended due to fog. A makeup date has not yet been determined.

As Chatham's Gabe Davis prepared to throw the first pitch at Veterans Field, thick billows of fog settled into the outfield. To the fans behind home plate, right fielder Lyle Miller-Green was nothing but a blurry figure.

In the second at-bat of the game, Wareham's Garen Caulfield launched what seemed to be a routine flyball to Chatham newcomer Zach MacDonald, but, immediately, MacDonald looked lost. He scanned through the dense fog, searching for the ball before sprinting to his left. MacDonald surprisingly relocated the ball and laid out in an unsuccessful effort, allowing Caulfield to skate into second base. Shortly after, home plate umpire Jeff Kinney issued a delay before ultimately suspending the contest about 50 minutes later.

This is the fourth consecutive game at Veterans Field that has been affected by fog. Chatham remains in last place in the East division with a 6–14–1 record. Likewise, the Gatemen sit at the bottom of the West with a record of 10–13–2.

The Anglers will have to wait until Wednesday to bounce back from Sunday's 7–6 loss to Harwich. Chatham is scheduled to play at Bourne following a rest day on Tuesday. The Braves (14–10–1 West) are currently second in the West and are led by Coastal Carolina's Derek Bender, who's .385 batting average is first in the Cape Cod Baseball League.