Game 22 Preview: Falmouth at Chatham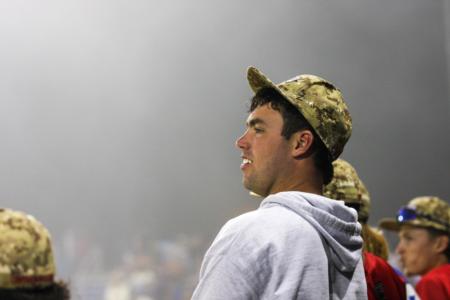 After Chatham suffered two straight postponements due to inclement weather, the Anglers will host Falmouth on Friday to get back in action. Chatham's previous two games, both of which were against Orleans, were shut down because of heavy rain and fog.

On Friday night at Veterans Field, Chatham and Orleans were tied 5–5 before a thick haze consumed the outfield. Following a near-30-minute fog delay, the contest was eventually suspended in the bottom of the fourth inning. Play will resume on July 28 exactly where it left off with two Anglers on base and two outs.

Though Chatham hasn't finished a game since Monday, it most recently defeated Harwich 10–6. Falmouth, meanwhile, are coming off a 3–2 loss to Cotuit despite thrashing the Kettleers 12–2 on Tuesday.

Here's everything you need to know before the Anglers (6–13–1 East) take on the Commodores (8–12–2 West).


Probable Pitchers

Tanner Witt (Texas): Witt began his Chatham career giving up six earned runs in one inning against Wareham but bounced back a week later, pitching four scoreless innings in an 8–1 win over Harwich. Witt allowed just one hit and struck out five Mariners on June 30, ending a four-game losing skid for the A's.

Braden Davis (Sam Houston St.): Davis featured on the mound during Falmouth's first matchup with Chatham this season, a 4–1 loss to the Anglers. But Davis wasn't to blame as he tossed 4.1 scoreless innings, notching six strikeouts along the way. This season, the lefty holds a 2.38 ERA and has allowed just seven hits.


Chatham Players To Watch

Matthew Etzel (Southern Mississippi): Over the last few games, Etzel has owned Chatham's leadoff spot. Etzel tallied two RBIs in the Anglers' latest victory over Harwich, and threatened the Orleans defense on Wednesday with a single in his first at-bat before the contest was fogged out.

Aidan Meola (Oklahoma State): The last time Falmouth played Chatham, Meola injured his shoulder after a collision with Nolan Schubart in the outfield. He's since made a speedy recovery and started against the Firebirds on Wednesday. The reliable third baseman will be a welcoming asset to have back in the clubhouse.


Falmouth Players To Watch

Gavin Kilen (Louisville): Kilen leads the Commodores with 11 RBIs and gave Chatham irrecoverable problems at Guv Fuller Field on June 29 when he recorded four hits in five at-bats. Despite Falmouth's low-scoring 3–2 loss to Cotuit Wednesday, Kilen's sacrifice fly tied the game in the top of the seventh inning.

Tyler MacGregor (Northeastern): MacGregor is riding a hot streak, totaling at least one RBI in three consecutive games. In 31 at-bats, he's garnered 13 hits for a .419 batting average. MacGregor has also hit two home runs this season, both of which came in an 11–5 win over Wareham on July 1.


Number To Know: 13

Chatham gave up a season-high 13 runs against Falmouth the last time they faced off. Though the Anglers have already conceded double-digits hits in a single game four times this season, their nine-run defeat on June 29 was the largest of 2023.


Last Time They Played

Chatham and Falmouth met for the second time this season on June 29. At Guv Fuller Field, the Commodores produced three consecutive multi-score innings to win 13–4.

The Anglers committed five errors and only mustered eight hits in the loss but their pitching staff struggled immensely. Starter Tommy Molsky and reliever Zander Sechrist combined for nine earned runs.

For Falmouth, seven different players recorded at least one RBI. The victory kick-started a brief three-game win streak for the Commodores, their longest of the summer.