Chatham's home game against Orleans suspended due to fog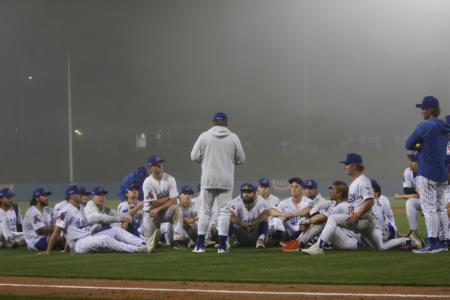 Chatham's contest against Orleans on Wednesday was suspended due to fog in the bottom of the fourth inning, knotted at five apiece. When the game was called, Chatham possessed a runner on first and second base with two outs, and Carter Trice faced a 3–2 count at the plate. The matchup was deemed incomplete and will resume on July 28 at 5 p.m., ahead of an originally scheduled game between the two sides. This is the second time in the last week where the Anglers have been fogged out.

The unfinished affair also marks the second straight contest postponed by inclement weather as Chatham's game with the Firebirds on Tuesday at Eldredge Park was rescheduled to July 21 due to rain.

"We've had fog before you know, I mean, never this often," Chatham manager Tom Holliday said. "It's almost like we're under a fog alert every night right now…These kids didn't come up here to hang around, they came up here to play baseball…Quite honestly I wanted to finish this game, I wanted to play. But that's not fair to ask people to hang around and wait 45 minutes in a fog delay, and what if it comes back?"

Chatham jumped out to an early 2–0 lead, courtesy of a Trice homer in the first frame, but gave up five unanswered runs in the top of the third inning to fall behind by three. The Anglers, however, tacked on three scores in the bottom of the fourth to draw level before thick haze further engulfed Veterans Field.

"We can't get any kind of fog warning, so we have to start games with the potential for this [the fog]. What we agreed to was we weren't going to go to the fifth inning if it looked like we couldn't finish."

The Anglers are scheduled to have their first official rest day of the summer on Thursday, July 6 and will face Falmouth at home on Friday. The Commodores currently sit in last place in the West Division with a record of 7–12–2. Chatham holds a record of 6–13–1 and is last in the East.