Chatham rides 15-hit performance to 8–1 victory over Mariners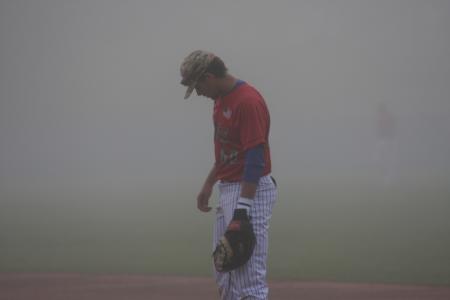 If the fog wasn't enough to turn heads at Veterans Field, a series of unusual events that unfolded in the bottom of the third inning probably was.

Carter Trice's two-RBI single brought Matt Etzel and Nolan Schubart home. Lyle Miller-Green advanced to second base then trotted to third after a wild pitch.

Sam Antonacci followed with a trickler to third base which was easily collected and tossed home. It looked almost certain that Miller-Green would be tagged out. But as he sprinted ahead, Harwich catcher Bryan Arendt never applied the force-out tag, looking oblivious to the rule.

A surprised Miller-Green tapped his foot on the plate to give Chatham a 3–0 lead. Then, with Xavier Casserilla at the plate, Arendt threw to first base and caught Antonacci in a pickle who had started running toward second.

While the Harwich defense concentrated on gunning Antonacci down, Trice waited patiently, generating a substantial lead off third base. Trice rushed forward to score as Matt Scannell overthrew Arendt in an attempt to garner an out.

"When you just keep plugging away, sometimes you have a breakthrough game," Chatham manager Tom Holliday said. "But we did it the right way. We hit the ball and we played errorless on defense."

After four consecutive losses, Chatham (5–11–1 East) re-entered the win column in scintillating fashion. A revitalized pitching staff tallied nine strikeouts and the Anglers' lethal at-bats totaled a season-high 15 hits to pace an 8–1 victory over the Mariners (10–7–0 East).

"It was good to see that many hits on the board," Antonacci said. "Even when there weren't hits, there were balls put in play. They were fumbling a little bit and we converted."

Tanner Witt enjoyed an efficient first inning in his second start. Witt relinquished six earned runs earlier in the season against Wareham but started Friday's game smoothly, fanning Ali Camarillo and inducing a flyout to left field from Mason Guerra. Kennedy Jones produced a weak bouncer that Chatham's defense snuffed out with ease.

"Honestly, I haven't seen a kid make adjustments to his delivery like he did," Holliday said of Witt's bounceback performance. "That's a tribute to the kid. Hopefully it's the start of getting him back on track."

Florida's Deric Fabian kicked off his Chatham career in the opening frame with a hit into shallow center field. Fabian's effort narrowly avoided Harwich's Devin Obee, who raced forward to collect the ball as it nestled into the grass for a base hit. But directly after, the fog started to seep in.

The haze swiftly swallowed Obee but spared the other two Harwich outfielders. It sneakily camouflaged a routine Miller-Green fly-out, acting as an unexpected guardian angel, to put two Anglers on first and second base, but the offense left them stranded.

"On the offensive side, no ball was dead in the air," Trice said.

In the bottom of the first inning, Jones floated a foul ball well past the left-field line. He glanced over as Casserilla gave chase. Leaving his post at third base, Casserilla sprinted toward the surrounding fence, leaping into the protective netting with his left hand outstretched. In an acrobatic maneuver, he caught Jones' pop-up to end the first frame.

In the top of the third inning, following a successful Scannell stolen base, home plate umpire Tony Cerilli issued a 20-minute fog delay. Thick billows clambered in from all angles of the field. Yet, Cerilli deemed the contest fit to continue.

"We had a fog-aided 15 hits but so what," Holliday said. "We had guys from all over the lineup putting the ball in play. We were better tonight with runners in scoring position and that's what we've been lacking."

Following the Anglers' unorthodox route to a 4–0 advantage in the third inning, their bats continued to stay hot in the same frame. Casserilla recorded a single and Harwich reliever Andrew Armstrong walked Kaden Hopson to load the bases. Etzel's grounder to second catalyzed another run as Antonacci scored to make it 5–0.

"We didn't get behind early," Holliday said. "We've been behind every game early and we've been chasing the scoreboard on the wrong side. What we did tonight is we reversed it. We got ahead early with a big inning and actually got a chance to watch the other team chase us for once."

Witt, meanwhile, continued to impress after breezing through the opening three frames. In the top of fourth, he struck out Jones and forced Guerra into a routine fly-out that Schubart easily collected. The righty ended his tenure on the mound with five strikeouts, conceding just one hit. Oklahoma's Gabe Davis came out of the bullpen to replace Witt in the top of the fifth inning.

"That's the best piggy-back situation," Holliday said of his pitching duo. "Both guys threw 55 pitches each. That's an oddity. Plus, we only threw 125 pitches all night. That might be the lowest total we had all year."

Kaeden Kent took a ball high into left field, leaving a powerless Jones to track the shot amid the still-prevalent mist in the bottom of the seventh inning. By the time his hit dropped, Kent had taken off furiously, rounding the bases as Chatham assistant coach Marty Lees enthusiastically waved him on. Kent landed at third and an errant pitch gifted him the time to saunter home in the next at-bat, creating a 7–1 deficit.

The Anglers utilized their explosive five-run third inning for good. Though the Mariners tacked on a consolation run in the top of the fifth, an Antonacci single scored Trice to give Chatham an 8–1 lead. Holliday placed Carson Benge on the bump in the top of the ninth to cap off an energizing victory.

"The more fun you have, the more you win," Trice said.