Game 17 Preview: Harwich at Chatham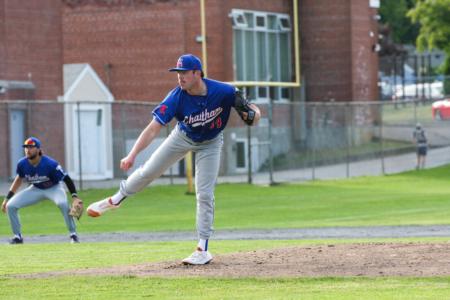 Chatham's 13–4 loss at Falmouth marked its fourth consecutive defeat. After suffering a season-high 10 walks against Bourne on Wednesday, the Anglers' pitching staff continued to struggle, conceding 18 hits to the Commodores while tallying just five strikeouts.

Though the two sides were tied going into the bottom of the second inning, Chatham allowed four straight multi-score frames and could never close the deficit.

The Anglers now return home to face Harwich next for the second time this season. The Mariners currently sit in second place in the East Division and are coming off a 7–3 victory over Wareham.

Here's everything you need to know before Chatham (4–11–1 East) takes on Harwich (10–6–0 East).


Probable Starters

Tanner Witt (Texas): In his Chatham debut, Witt had an evening to forget. During an 8–4 loss to Wareham on June 23, the Longhorn gave up six earned runs in just one inning. He'll have a chance to redeem himself against the Mariners.

Joe Savino (Elon): Savino's picked up two wins in two appearances, allowing just two runs along the way. When Harwich last matched up with the Anglers, the righty featured in three innings and conceded one earned run, three walks and two hits.


Chatham Players To Watch

Chris Maldonado (Vanderbilt): Maldonado's first three weeks in a Chatham uniform haven't been the prettiest, but they've been promising as of late. Most recently, the Commodore notched an RBI single—one of two total Chatham runs—against Bourne on Wednesday and earned a walk, which he later scored off of, at Falmouth Thursday.

Carter Trice (North Carolina State): Trice garnered his first start in right field at Guv Fuller Field in the A's 13–4 loss at Falmouth and recorded two walks and a hit in three at-bats. In 2023, Trice manufactured a .320 batting average with the Wolfpack.


Harwich Players To Watch

Kennedy Jones (North Carolina Greensboro): Jones's 14 RBIs with just 12 hits is a team-best. The righty slugger entered the summer tallying a .355 batting average for the Spartans along with 14 home runs.

Ali Camarillo (Cal St. Northridge): Camarillo's walk-off single pierced Chatham hearts in the two sides' first meeting. Though the righty has managed just six hits in 59 at-bats, Camarillo enters Friday's contest at Veterans Field off a two-RBI performance in Harwich's 7–3 win over Wareham.


Number To Know: 4

Chatham is currently on a four-game losing skid, matching its longest losing streak from last year. In 2022, from June 21 to 24, and again from June 28 to July 1, the Anglers' struggling offense couldn't find the mark in a season where Chatham eventually missed the playoffs. With the Mariners visiting town, the A's have a chance to prevent the recent losses from piling up.


Last Time They Played

At Whitehouse Field, on June 21, the Mariners jumped out to a 4–1 lead and maintained it going into the top of the eighth inning. But, wild pitching from Harwich's Dylan Delvecchio scored three Chatham runners to extend the game into extra innings.

In the 10th frame, the Anglers failed to score and a Camarillo walk-off single gave the home team a 5–4 victory.