Chatham's game against Harwich postponed due to rain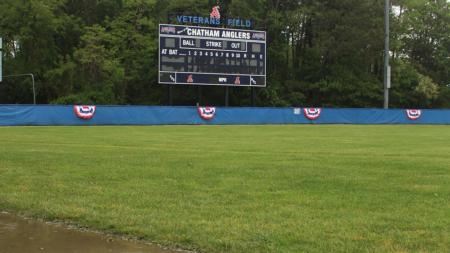 Chatham's game on Thursday against Harwich has been postponed due to rain. The makeup date has been set for Tuesday, June 27. This is the third time an Anglers game has been postponed due to rain. Chatham is now facing the possibility of playing eight straight games through the end of the month.

Just a day prior, Chatham faced Harwich and lost 5–4 in extra innings. The Mariners were slated to start Andrew Armstrong for the second time in 2023 while the A's planned on starting Oklahoma State's Gabe Davis. In Armstrong's first appearance against Bourne, he totaled seven strikeouts during Harwich's 3–0 victory. Davis first featured as a reliever in Chatham's 6–2 loss to Cotuit on June 18 and produced two strikeouts in 1.2 innings pitched.

Chatham will travel to Wareham on Friday. The Gatemen currently sit in sixth place in the Cape Cod Baseball League and have tallied a record of 4–5–1 through ten games this summer. Last season, the Anglers won three times and tied once against Wareham across four total contests.