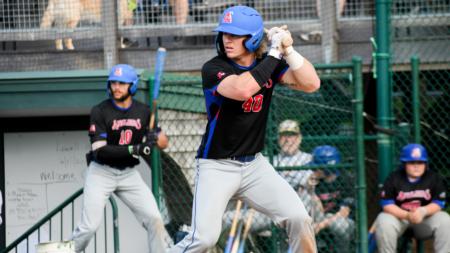 A carousel formed in the top of the sixth inning. But instead of a continuous circle of intricately-painted wooden horses, the Cotuit Kettleers advanced steadily from base to base following two straight walks from Chatham reliever Carlos Rey.

After Oklahoma State's Nolan Schubart completely botched a routine fly ball in left field, the visitors loaded the bases. From there, Rey threw four balls to Rodney Green Jr., and did so again to Cannon Peebles, conceding two runs. The overflow of bad pitching gave Cotuit a 6–0 advantage. It also prompted Chatham's second pitching change. Nothing got much better from there.

The Anglers struck out 16 times in their fourth loss of the season and produced just seven hits. Before Sunday, Veterans Field had been a fortress as the Anglers remained unbeaten at home after six games. But Cotuit (6–1–0 West) broke through that protection, handing Chatham (2–4–1) its first home loss of the season, 6–2.

"We walked too many guys and too many guys struck out, that's just what happened," Chatham outfielder Lyle Miller-Green said. "We just struggled to put together a two-strike approach but there's a long season ahead of us and we just have to move on."

Just three days prior, the Anglers fell to the Kettleers at Lowell Park. But, before Chatham could even attempt to level the score, the threat of another game postponement loomed. Saturday's road matchup at Harwich had already been canceled due to rain, and amid poor field conditions, Anglers manager Tom Holliday and Cotuit manager Mike Roberts paced around the diamond at Veterans Field to see if a potential rescheduling was necessary.

"At first there was no way to play on this field," Holliday said. "We got a little sunshine, a little breeze, got it close, and you can only do so much. You just kind of just close your eyes and hold your breath."

After 45 minutes of thorough examination, Chatham assistant coach Marty Lees flashed a thumbs up to signal the game would be played.

Despite walking two batters, Anglers starter Parker Smith escaped the opening inning of the contest unscathed. For Cotuit, starter Isaiah Coupet breezed through the first two innings.

Though Smith never fully lost command, Green Jr. exacted revenge, from his initial ground out, in his second at-bat. He fired an RBI single to give the Kettleers a 1–0 lead on the team's fourth hit.

Peebles then unleashed a near-identical shot that passed through Green Jr.'s legs in his run to second base. The ball scampered into the outfield for Cotuit's second straight RBI single to make things 2–0.

"I think I came out a little flat and got behind in the counts," Smith said. "In the first inning, just leaving the bases loaded and having a lot of pitches, it's not a good recipe for doing well. It just kind of caught up to me in the fourth."

Midway through the top of the fourth inning, Holliday left the dugout. After a hard-earned 85 pitches, Smith had allowed two runners on base with a single out remaining as Michael Carico stepped up. Chatham's starters huddled into a cluster, but after discussion finished, Smith remained on the bump. His next pitch arrived and Carico met it perfectly for a line drive toward right-center.

Miller-Green immediately sprinted to his left, tracking the ball with his outward palm facing the sky, but couldn't make the catch. Carico's effort brought two more Kettleers home, extending their cushion to 4–0. Holliday didn't hesitate this time to replace Smith with Rey.

Chatham's problems didn't strictly rest on its defense, however. All game long, the A's bats stayed ice cold as its highly-touted, heavy-hitting newcomers either retired or struck out.

"We had the tying runs at the plate, but we hit the ball hard right at somebody," Holliday said. "When you're trying to come from behind, you have to get a big hit."

JJ Wetherholt recorded the Anglers' third hit in the bottom of the sixth inning but hurt himself in the process. After crossing first base, the West Virginia infielder slowed to a hobble before stopping altogether. He gently lowered himself, stomach-first, onto the right field line momentarily before limping gingerly off of the field. Holliday said he suspects Wetherholt hurt his hip.

"Players' health is more important than playing a game," Holliday said when asked about Wetherholt's injury. "The field looked good but it didn't play good."

Ballestero's second hit of the contest resulted in an RBI single to cut Chatham's deficit to five runs in the seventh frame. And even though Aidan Meola manufactured a line drive to centerfield, Green Jr. comfortably caught the floater to thwart the Anglers' offense.

In the sixth inning, Holliday chased Rey off the mound after he mustered three walks and two earned runs in 1.2 innings. Oklahoma State's Gabe Davis stepped in, yet Davis was quickly replaced by Liam Paddack.

"We walked nine and hit two. That's bad," Holliday said. "Then we turned around and struck out all those times."

Countless glimpses of hope offensively revealed itself for the Anglers in the following two frames, and peaked when Ballestero stepped up with the bases loaded in the bottom of the eighth inning. First, the right fielder correctly judged a ball but swung on a low pitch directly after. Facing his fourth and fifth deliveries, Ballestero fouled on both, and ultimately met his demise with a swing and a miss

The strikeout proved to be the final sting in the Anglers' 6–2 loss.