Game 7 Preview: Cotuit at Chatham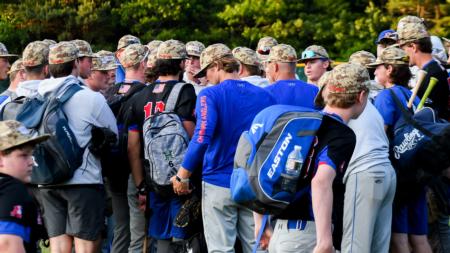 "Rain, rain, go away / Come again some other day / We want to go outside and play / Come again some other day."

Chatham fans were probably hoping that the fable turned song by The Countdown Kids would come true Saturday, but the rain never went away, postponing the Anglers' road contest against Harwich.

Before finding out the news, Chatham took warmups in the outfield, bullpen, and batting cages at Veterans Field. But when it did come, it poured, soaking the infield clay, saturating the outfield grass, and packing up the players' bags for the rest of the day. The Anglers and Mariners weren't the only victims, however, as the entire Cape Cod Baseball League was prevented from playing games due to the inclement weather. All of those games were moved to Wednesday, June 21.

The A's were slated to play Cotuit in their season opener but the rain destroyed that meeting too. The two teams finally met on Thursday, June 15, where the Ketleers took down the Anglers 10–3. They will now meet for a second time this season, this time on Chatham's home turf.

Here is everything you need to know before Cotuit (5–1–0 West) visits town:


Probable Starters

Parker Smith (Rice): Instead of going with the one-two Rice punch in Chatham's win over the Gateman on Friday, Holliday decided to rest Smith, a USA camp invitee, for a start of his own. Rice picked up one earned run with six strikeouts in 4.2 innings during his first start of the year in the A's season opener—a 10–10 draw with Brewster—and will look to continue his dominance to get the bats rolling for Chatham against the Kettleers.

Isaiah Coupet (Ohio State): In a 3–2 victory over Wareham, Coupet struck out seven of 14 batters he faced, allowing just one run and one hit in four innings pitched. The six-foot-one lefty produced an ERA of 3.55 in 2023 with 72 strikeouts, making 10 starts in 11 appearances.


Chatham Players to Watch

Chris Maldonado (Vanderbilt): Holliday believes Maldonado can play anywhere. The rookie's season was highlighted by a 3-for-5 day with one homer in the Commodores' 12–2 win over then-No. 3 Ole Miss on March 16, and nine of his first 16 hits with the program went for extra bases. In 155 at-bats, the right-handed batter, who hails from Short Hills, N.J., batted .310 with eight home runs and 32 RBIs.

Mark Shallenberger (Evansville): Shallenberger has exceeded all expectations in Chatham. After the A's win over Wareham, Holliday said that the lefty batter and center fielder has continued to "get better and better" and has "progressed his tools" in every facet of his game. Shallenberger is currently hitting .375 with the Anglers in eight at-bats, and launched his first home run of the year against the Gateman for two RBIs.


Cotuit Players to Watch

Michael Carico (Davidson): Carico demolished a homer in Chatham's loss to Cotuit, and has two on the year, which leads the Kettleers and is tied for the most in the Cape League. In 14 at-bats this season, the lefty hitter has only notched three hits, but power lefty hitters at Veterans Field are like peanut butter and jelly. His six RBIs lead Cotuit's bats.

Brett Bateman (Minnesota): Bateman's seven hits in 16 at-bats put him at a .438 batting average, good for first in the Kettleers lineup. Bateman bats left as well and has struck out only once this season. Bateman hit at a .354 clip with the Gophers in 2023 in 189 at-bats, but didn't knock a single home run all season long.


Number to Know: 6

Chatham sits in sixth place in almost every team category thus far into the 2023 CCBL season. Sixth in total runs scored, sixth in total hits, sixth in total RBIs, sixth in stolen bases, sixth in walks, sixth in team batting average, and sixth in team slugging percentage. And all this through six games of the season.


Last Time They Played

On Thursday, Chatham lost 10–3 in its first matchup with Cotuit on the road. Both Austin Peay's Lyle Miller-Green and West Virginia's JJ Wetherholt tallied an RBI to build an early 2–0 lead at Lowell Park, but the Anglers let up seven runs combined in the fourth and fifth inning to fall behind 7–2.

Cotuit increased its advantage to 9–2 in the bottom of the seventh inning before a Carico home run generated an eight-score cushion. Though St. John's Tate Ballestero registered an RBI double in the top of the ninth, the Kettleers followed up with two straight strikeouts to end the contest.