Game 7 Preview: Chatham at Harwich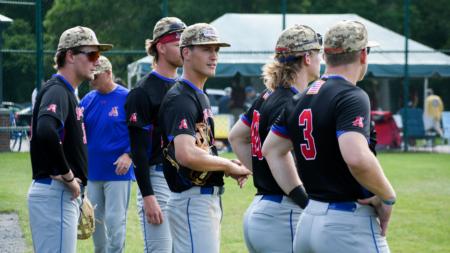 Chatham's two wins of the season have come very differently, but two factors have been a constant in both—good starting pitching and playing at Veterans Field.

In the Anglers' 2–0 shutout win over Orleans on Tuesday, June 13, starter Brody Brecht set the tone with four innings of one-hit, five-strikeout pitching, followed by another perfect five innings from Matt "Tugboat" Wilson. More recently, in Chatham's 7–4 knockout of Wareham, starter Hayden Durke notched six strikeouts and allowed only one run in the first four innings of the contest.

Chatham's road games have been a different story altogether. The Anglers' offense averages just three runs on the road in comparison to 6.33 runs at home, and the pitching staff has a similar composition.

If starting pitching can become a reliable factor in Chatham's road game against Harwich and A's manager Tom Holliday can receive the best out of his new offensive set in JJ Wetherholt, Nolan Schubart, Chris Maldonado, and possibly even Aidan Meola, Chatham could potentially pick up its first road win of the year.

Probably Starters

Parker Smith (Rice): Instead of going with the one-two Rice punch in Chatham's win over the Gateman on Friday, Holliday decided to rest Smith, a USA camp invitee, for a start of his own. Rice picked up one earned run with six strikeouts in 4.2 innings during his first start of the year in the A's season opener—a 10–10 draw with Brewster—and will look to continue his dominance to get the bats rolling for Chatham against the Mariners.

Sam Armstrong (Old Dominion): Armstrong, a six-foot-two righty, owns a 0.00 ERA after one appearance in which he pitched four innings with six strikeouts and two walks. The junior hurler made 15 starts in 2023, garnering a 3.51 ERA in 77.0 innings pitched.


Chatham players to Watch

Chris Maldonado (Vanderbilt): Holliday believes Maldonado can play anywhere. The rookie's season was highlighted by a 3-for-5 day with one homer in the Commodores' 12–2 win over then-No. 3 Ole Miss on March 16, and nine of his first 16 hits with the program went for extra bases. In 155 at-bats, the right-handed batter, who hails from Short Hills, N.J., batted .310 with eight home runs and 32 RBIs.

Mark Shallenberger (Evansville): Shallenberger has exceeded all expectations for Chatham. After the A's win over Wareham, Holliday said that the lefty batter and center fielder has continued to "get better and better" and has "progressed his tools" in every facet of his game. Shallenberger is currently hitting .375 with the Anglers in eight at-bats, and launched his first home run of the year against the Gateman for two RBIs.


Harwich Players to Watch

Sam Armstrong (Old Dominion): Armstrong, the starter for the Mariners, has yet to give up a run this season in four innings pitched. It's not to say that he could be a problem for Chatham, who sits around the midpoint in almost every team batting statistic, but it's a matchup that will make the A's bats work hard. Especially as Chatham gets new guys into the mix, it'll take some adjustment time for them to get up to speed with the wooden bat.

Hunter Fitz-Gerald (Old Dominion): Fitz-Gerald, another Old Dominion product, has posted a .375 average in 16 at-bats this season and a walk-to-strikeout ratio of 3–4. No matter who he will face from Chatham's bullpen after Smith's start, the six-foot-four lefty batter will surely contend with them.


Number to Know: 6

Chatham sits in sixth place in almost every team category thus far into the 2023 Cape Cod Baseball League season. Sixth in total runs scored, sixth in total hits, sixth in total RBIs, sixth in stolen bases, sixth in walks, sixth in team batting average, and sixth in team slugging percentage. And all this through six games of the season.


Last Time They Played

In its second-to-last game of the 2022 season, Chatham defeated Harwich 4-2. Though the result failed to help its playoff push, Holliday said the contest was a chance for the Anglers to "roll over and die," but said it was cool his team didn't play that way.

On the mound, Roman Kimball committed mistakes early but improved as the game went on. At the plate, after Cooper Ingle registered a three RBI at-bat, Charlotte's William Butcher unleashed his first home run of the year to tack on an insurance run.