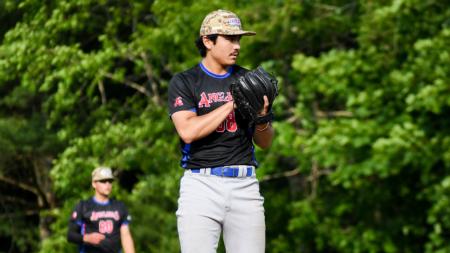 Tommy Molsky lost command of the mound just as quickly as he received it. Inserted into the game at the bottom of the fourth inning, he walked Cotuit's Irvin Weems III during his first five deliveries.

Regaining his composure, the Chatham pitcher forced two fly outs but allowed a single to Cannon Peebles. Then, Molsky walked Quinn McDaniel.

For the first time at Lowell Park, the Kettleers had landed a runner on third as Molsky faced off with Brett Bateman. With the count at 1-2, Bateman hit a line drive deep into center field. Positioned 90 feet away from home, Weems scampered in to score with Peebles close behind. And, as the Anglers outfield desperately tried to chart their final out, Bateman arrived, untouched, at second.

Through the first three innings, Chatham looked in control. By way of a seemingly rejuvenated offense, partnered seamlessly with consistent, accurate pitching, the Anglers generated a swift 2-0 lead. But, after a mound switch resulted in a three-run fourth frame, the A's (1–3–1 East) gradually fell apart. Across the following four innings, Cotuit (4–1–0 West) tacked on six more scores in its eventual 10-3 victory.

"We needed to ride a two run lead a little longer than that and Aoki gave us a good start," Chatham manager Tom Holliday said. "We just need to continue to try, peck away, and score a run here and there."

Despite tallying just 10 hits in its last two games, including a 5-3 loss to East division rivals Yarmouth-Dennis on Wednesday, it didn't take long for Chatham to get going at the plate against Cotuit. In his first at-bat, Kaeden Kent sent a line drive streaking down the right-hand side for a base hit. He stood as the lone runner on first when Lyle Miller-Green stepped into the right-handed batters box.

Miller-Green, who deposited a home run into the trees at Y-D, brought Kent home to put Chatham up 1-0 in the top of the first. Facing the Kettleers' starter, Christopher Kahler, he fired a double which threatened the centerfield porch.

The second inning produced a JJ Wetherholt double in his Chatham debut. Mirroring the same coveted swing that earned him a nation-best .449 batting average with West Virginia in 2023, the second baseman piped a double deep towards the right field fence to score Sam Antonacci and extend the Anglers' lead.

Defensively, in his first start for Chatham, Aoki made quick work of Cotuit, primarily utilizing a reliable fastball, and crafty slider, to prevent any Kettleer to advance farther than the second base. He would need help, however, from Antonacci who leapt high from his crouch at shortstop to perform an acrobatic catch in the bottom of the third inning, to keep the Kettleers scoreless.

"He did really well," Chatham reliever Brian Holiday said of Aoki's play. "He just pounded the zone early with his off-speed stuff which drew a lot of weak contact to lead our defense to do a good job."

The main problem for Chatham on Thursday began when Aoki stepped off. Although the Southern California product's dominance over the opposing lineup warranted a longer stay on the mound, Holliday opted to begin the bottom of the fourth by calling on Molsky.

What resulted was the disappearance of a slim, 2-0 Angler advantage, and the emergence of a 4-2 deficit. After Bateman's RBI double placed Cotuit in front, Michael Carico found the barrel on an RBI single. Molsky eventually escaped the nightmarish start by striking out Cole Mathis — his first and only strikeout of the contest.

"It's hard to find anybody to come out of the bullpen with short notice," Holliday said on his decision to replace Aoki with Molsky. "He [Molsky] made a couple pitches in the middle of the zone and they [Cotuit] hit them. Sometimes you hit the bull, sometimes the bull gets you."

The tortuous dismantling of Chatham continued in the fifth inning. Holliday paid Molsky a mound visit early on after another two Kettleer runs made things 6-2. And, as the huddle of players dissipated around the righty, led by their sweatsuit-clad manager, Holiday stepped in as replacement, but picked up right where Molsky left off.

Holiday enjoyed a relatively quiet sixth frame, initially committing a walk, but tallied two strikeouts and forced a fly out to return Chatham to the plate. But on offense, it seemed like the swagger and confidence that the Angler bats had enjoyed in the earlier innings, evaporated, as the scoreline ballooned further and further out of reach. Kent, who started the game by notching the game's first hit, struck out, and so did Oklahoma State's Nolan Schubart, another heralded slugger that arrived the evening prior with Wetherholt.

A McDaniel RBI triple in the bottom of the seventh beckoned a second wave of scoring for Cotuit, treating Holiday equally as harshly as it did Molsky. McDaniel's shot, which nestled into the grass behind Janson Reeder's outstretched glove in deep center field, was then followed by a Bateman sacrifice fly which, despite being effortlessly corralled by Miller-Green, still brought home a Cotuit runner to increase the lead to 9-2.

"I didn't really like my performance," Holiday said. "I didn't think I had my curveball today, I didn't really feel like I could get behind any of my pitches and I didn't feel like I was throwing as many strikes as I usually do."

Carico's second at-bat provided an insurance run, met by cheers and whistles from the Kettleer faithful. His moonshot, which tiptoed the right field line dangerously, was deemed a home run.

"We got our butts kicked," Holliday said. "That happens. It's the name of the game."