Anglers continue to struggle at the plate, fall 5-3 at Yarmouth-Dennis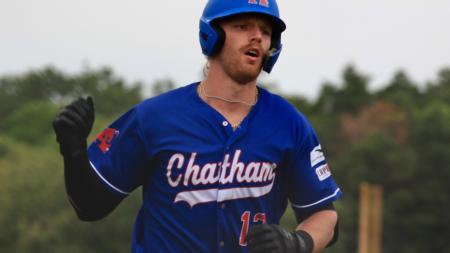 Merrill "Red" Wilson Field's deepest dimension stands right in front of its scoreboard.

Lined with yellow plastic, the furthest it measures is 360 feet from home plate, giving Yarmouth–Dennis the shortest centerfield porch of any park in the Cape Cod Baseball League. The visiting Anglers, however, could not capitalize.

In its second road game of the young 2023 season, Chatham (1–1–2 East) fell to conference rival Yarmouth–Dennis (3–2–0 East) by a final score of 5–3. Since its impressive 10-run showing on opening day against Brewster, the Anglers' bats haven't been able to reach the mark since. Wednesday's loss to the Red Sox proved to be no different.

"We just didn't have a good answer for them through the lineup," Chatham centerfielder Mark Shallenberger said. "They just hit it a little harder than we did and used the wind a little bit better but it is what it is."

In the top of the first inning, facing Y-D's Smith Pinson in his first at-bat, Kaeden Kent sent a line drive in between second base and third. After advancing to second off a wild pitch, Kent attempted to steal third but was caught in a rundown.

Eric Hammond, the starter for the A's, began shakily in his first outing. Will King, Y-D's second batter, produced a double and Casey Cook followed with a single. Max Viera then fired a line drive to bring King home, giving the Red Sox a quick 1–0 lead.

After going scoreless in the first inning, Chatham bounced back in the top of the second, courtesy of a Lyle Miller-Green homer. The 2022 Cape League Home Run Derby champion needed just one pitch to crank a no-doubter toward the center field trees, tying the contest at one apiece. Next, Shallenberger registered a double and Tate Ballestero earned his fourth walk of the year, but Pinson left both Chatham runners stranded.

"It was just a bunch of off-speed stuff, the whole thing was nothing but trickery," Chatham manager Tom Holliday said of Pinson's work on the mound. "Our guys loaded up to the fast ball and he didn't throw enough fast balls for them to get a kick out of it."

Gonzaga center fielder Enzo Apodaca appeared to have all of Hammond's pitches covered in his first at-bat. Whether the Southern California product threw a fastball or inserted a curveball, Apodaca made contact, but his returns failed to stay in play. At last, Apodaca unleashed an RBI double to center field as the Red Sox took back their one-run advantage.

Chatham's evening worsened in the bottom of the third when Y-D's Hunter Hines belted a high-looping RBI double of his own that landed in between outfielders Kent and Shallenberger.

"I thought that our lack of defensive skills hurt us several times today," Holliday said. "Not necessarily missing balls but just not getting to them."

Though the Anglers struggled early against Pinson, Sam Antonacci broke through in the top of the fifth inning. The A's shortstop piped a shot deep into left field that threatened the home run fence before nestling just behind the turning neck of Y-D's Nathan Archer. Antonacci took off, eventually reaching third base while his hit scored Ballestero to cut the deficit to just one.

Chatham's first baseman Kyson Donahue rode a cold streak prior to his third at-bat of the contest. The infielder struck out three times in the Anglers' matchup with Orleans on Tuesday, and he had come up empty twice at "Red" Wilson Field. But, facing Red Sox reliever Landon Beidelschies, Donahue crushed an RBI double down the right-hand side to bring home Miller-Green, making it a 3–3 score in the top of the sixth inning.

After replacing Hammond with Liam Paddack for two innings, Holliday brought in Miles Langhorne to finish the game. The Greenwich, Conn., native had no problem generating two swift outs in the bottom of the seventh inning, but hit Y-D's Casey Cook on his right calf despite being ahead in the count. With Cook positioned at first base, a Viera single put two runners on for the Red Sox.

Hunter Hines stepped up next and smacked a line drive which streaked along the right-field line for a single, scoring Cook. Although Langhorne fanned Brady Day just after, the Anglers found themselves down 4–3 with time running out.

"I don't think that I gave up a hit that was hit hard all night and they just found holes," Langhorne said. "It was frustrating."

An inning later, after a 1-2-3 outing at the plate for Chatham, King singled to bring Apodaca home. Y-D's 13th hit of the evening provided the necessary insurance to hand Chatham its second road loss at a final 5–3 mark.

"The great thing about baseball is that you get to get back to it tomorrow," Langhorne said.