Game 4 Preview: Chatham at Yarmouth-Dennis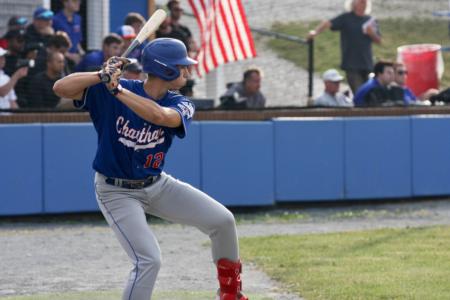 Brody Brecht and Matt "Tugboat" Wilkinson established themselves as two of the best pitchers on the Cape Tuesday night.

In Chatham's 2–0 shutout victory over Orleans, the duo combined for 13 strikeouts, leading the Anglers to their first win of the 2023 season. Wilkinson handed the Firebirds a perfect no-hitter in the final five innings of the contest, notching eight strikeouts individually. And while the tandem worked so flawlessly in unison, the two pitchers could not have done it so differently. Wilkinson stands at six-foot-one, 275 pounds, and utilized a mix of four low-speed pitches while Brecht, a former Iowa football wide receiver, demolished the opposing lineup with high heat, a tall frame and a sweeping slider.

The win was just what the A's needed going into Wednesday's affair against Yarmouth-Dennis, which notched a commanding 14–6 win over Falmouth on Tuesday. The Red Sox tacked on four runs in the third inning alone, and added another seven in the eighth. Two players in YD's lineup, Bowling Green's Nathan Archer and Seton Hall's Max Viera, recorded three-hit outings.

Here is everything you need to know going into Chatham's (1–1–1 East) matchup with the Red Sox (2–2–0 East).


Probable Starters

Eric Hammond (Southern California): It will definitely be hard to top the A's last two pitching performances, but Hammond, a six-foot-four redshirt freshman, will surely try to accomplish that feat. Hammond registered a 4.82 ERA in his first year with the Trojans, tallying 41 strikeouts in 52.1 innings pitched. This outing will be a testing ground for Hammond, as Chatham manager Tom Holliday said that he was eager to see more from the righty.

Smith Pinson (Kennesaw State): Pinson started off his 2023 campaign with 17.0 scoreless innings, and appeared in 18 games with one start on the mound. The six-foot-eight right-handed pitcher mustered a 2.27 ERA in 35.2 innings pitched as a sophomore. Pinson is a strikeout-heavy hurler, fanning 35 batters last season to just seven walks.


Chatham Players to Watch

Lyle Miller-Green (Austin Peay): Miller-Green, a returner for the A's, stepped into the lineup for the first time all season and did not disappoint, especially on a night in which Chatham notched just four hits. After reportedly suffering from back issues upon arriving on the Cape, the power-hitter collected one hit and one walk in the Anglers' first win. Miller-Green hit .354 in 2023 with 16 home run jacks.

Tommy Molsky (Penn State): Will it finally be time to see Molsky out of the bullpen? Holliday spoke to great heights about Molsky's pedigree before the season got underway, describing him as the type to paint the outside corners and make the batter work in the box. The Nittany Lion, who threw over 1,000 pitches for Penn State in 2022, was expected to show in Tuesday's victory, but "Tugboat" didn't run out of that steam that Holliday expected him to run out of.


Yarmouth-Dennis Players to Watch

Nathan Archer (Bowling Green): In all but one game so far this summer, Archer has been able to post at least two hits for the Red Sox—in the one exception, he posted a single hit. The lefty batter, righty thrower is 8–15 at the plate on the Cape in 2023 with two home runs and five RBIs. Not only is Archer one of, if not the best hitter on YD's roster, but he might be the best hitter in the Cape League so far this season.

Max Viera (Seton Hall): If there is anybody who compares to Archer this season for the Red Sox, it's Viera. The five-foot-ten utility man, who is more geared towards playing in the infield, has batted seven hits in 17 at-bats this season, and garnered a .319 average for the Pirates in 2023 as a All-Big East First Team selection. Look out for this deathly duo at the plate today.


Number to Know: 13

After what occurred at Veterans Field last night, you can't repeat it enough. The combined pitching tandem from Brecht and Wilkinson totaled 13 strikeouts in the Anglers' first win of its 100th all-time season. After Wilkinson finished the job with five no-hit innings, he was drenched by his teammates from a Gatorade cooler during his post-game interview.


Last Time They Played

The last time Chatham and YD faced each other, the A's had nothing to play for. Regardless, Chatham rode back-to-back three-run innings to lift it past the Red Sox in an 8–6 win to end the 2022 regular season.

YD, however, had everything to play for. A win or a tie in the game would have secured the Red Sox place atop the East Division, but the Anglers used that fact to motivate its play style.

"Spoil their night," Chatham shortstop Marcus Brown said after the game.