Game 3 Preview: Orleans at Chatham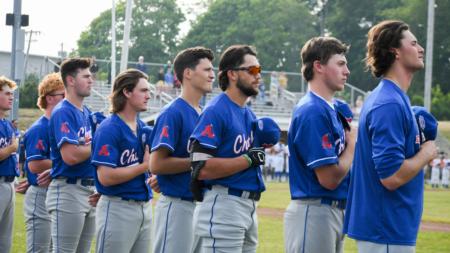 After a 10–10 extra-inning thriller opened up Chatham's 2023 campaign, the Anglers lost to Hyannis in their second game of the season. Across the first seven innings, the A's failed to tack on a single run as the Harbor Hawks built up a 6–0 lead behind Jay Drivers' pitching. Although Chatham trimmed that deficit to three at one point with hits from Evansville's Mark Shallenberger and Charlotte's Will Butcher, it eventually fell 6–3.

The Anglers will return home Tuesday to face division rival Orleans at Veterans Field. The Firebirds are coming off of a 6–4 win over Bourne where they notched all six runs in a dominant third inning. Orleans currently sits behind Harwich at second place in the East.

Here's everything you need to know ahead of Chatham's (0–1–1 East) matchup with the Firebirds (2–1–0 East).


Probable Starters

Brody Brecht (Iowa): In his first year with the Hawkeyes, Brecht earned Perfect Game second-team Freshman All-American honors and was named to the Big Ten Conference All-Freshman Team. The lefty pitcher also suited up as a wide receiver for Iowa in 2022, but has since decided to concentrate solely on baseball. In 2023, Brecht totaled 109 strikeouts while posting a 3.74 ERA as a sophomore. Also a USA Baseball Collegiate National Team invitee, Brecht, along with Chatham's Parker Smith (Rice) will likely leave the Anglers in late June.

Dylan Jacobs (Stetson): A former Florida State Seminole, Jacobs' sophomore season highlight came on May 25 when he fanned 11 batters against Austin Peay. The rising junior finished with a 5.26 ERA in his first season at Stetson and recorded 43 strikeouts in 37.2 innings pitched.


Chatham Players to Watch

Tommy Molsky (Penn State): On Monday against the Harbor Hawks, Molsky was slated to come in as a closer but never got the chance. Today, the Nittany Lion will likely come in to relieve Brecht in the bottom of the fifth inning. A returner for Chatham, and coined a "pitcher's pitcher" by Anglers manager Tom Holliday, Molsky registered 36 strikeouts in 15 appearances with Penn State last season.

Kaeden Kent (Texas A&M): In Chatham's first contest this summer with Brewster, Kent tallied a two-RBI single in the bottom of the first inning, helping the Anglers jump out to an early 2–1 lead. The left fielder produced one of Chatham's five hits Monday evening and notched a team-high two walks. In his freshman season at A&M, Kent clipped a .265 batting average in 83 at-bats.


Orleans Players to Watch

Eddie Micheletti Jr. (George Washington): Labeled as Orleans' designated hitter in Monday night's win over Bourne, Micheletti has notched one home run and three RBI's in nine at-bats on the Cape thus far. The right fielder played his best game in a loss to Harwich, where he produced two of the Firebirds' three scores. In his junior year at George Washington, Micheletti boasted a .384 batting average and garnered 86 hits.

Johnny Olmstead (Southern California): Olmstead was Orleans' hero in its explosive six-run third inning last time out. With two runners on base, Olmstead cranked his first homer of the young Cape League season to help the Firebirds create a four-score cushion. In four years at USC, Olmstead totaled 97 RBI's and a .257 batting average.


Number to Know: 4

Just eight teams remain in the 2023 NCAA Baseball World Series which means four Anglers are still not in Chatham. TCU's Cam Brown, Oral Roberts' Jacob Widener, LSU's Griffin Herring, and Florida's Deric Fabian are all currently in Omaha, Neb., excitedly awaiting Friday night when Brown's Horned Frogs take on Widener's Golden Eagles to kick off the collegiate season's final and most anticipated stretch.


Last Time They Played

Chatham last matched up with Orleans on July 26, 2022. The Anglers entered the game one point behind the Firebirds for the final playoff spot, but a 5–2 Orleans win at Eldredge Park widened the final gap.

Chatham's arms held the Firebirds scoreless for four innings before they started to break down. Entering the bottom of the eighth inning with a slim 2–1 advantage, hits from Orleans' Garret Guillemette and Drew Metzdorffour resulted in four conceded runs and an eventual loss.