Chatham topped 6-3 by Harbor Hawks in second game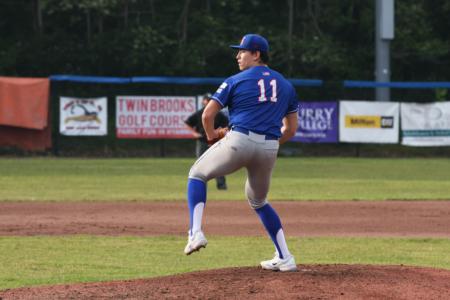 Seven runs versus zero runs. Night versus day. Chocolate versus vanilla. Yin versus yang. Same ole' game of baseball, but entirely opposite outcomes. In Chatham's first two games of the season, the difference between the Anglers' run total through the first four innings was unmistakable.

The unpredictability of baseball is what makes the sport a spectacle. Two games will almost never look identical. But it's never a good feeling to suffer a shutout. If it weren't for a three-run seventh inning by the Anglers, Hyannis would've done just that—shut Chatham out.

While the Anglers did not produce a goose egg, the Harbor Hawks (2–0–1 West) capitalized on Jay Driver's five shutout innings to top Chatham (0–1–1 East) by a final score of 6–3.

"I didn't see a major leaguer," Chatham manager Tom Holliday said of Driver. "I saw a kid that was trying to pitch and mix and throw strikes and that's what he did. A little bit more concerned about why we didn't hit it, why we didn't do more with him."

It took just ten pitches for Driver, a righty out of Harvard, to swipe through the Anglers' bats in the top of the first inning.

Chatham starter Trey Gibson, however, issued a walk to Hyannis' leadoff man, Bradke Lohry, in the bottom of the first. Lohry posted three hits in six at-bats against Wareham the previous night. Gibson then walked Trey Lipsey on a 3–2 count with Lohry on the run to third.

It didn't get prettier from there, as Gibson hit Alex Lane with a pitch to load the bases with no outs, and Andrew Sundean dialed up a two-RBI single to left field to put the Harbor Hawks up 2–0. An RBI single from William and Mary's Ben Williamson made it 3–0 in Hyannis' favor.

"It's really good to score in the first inning," Holliday said. "That's a great thing of any ball game and they did. We had to chase the scoreboard with literally no energy whatsoever. You know, our guys are going to find out what this baseball everyday thing is."

If the Anglers' arms were looking for any sign of relief from their bats in the top of the second inning, they didn't get it. Despite registering a walk on Texas A&M's Kaeden Kent, Driver shut the A's offense down with great command, notching his first two strikeouts.

The bottom of the second inning played out like a mirror of the first. Gibson tallied two strikeouts en route to his first 1-2-3 inning of the contest, taking more time with his pitches to locate the zone. It looked like Chatham was about to get its first run in the top of the third when Jared Sprague-Lott lined down the first base line with a man at third, but Hyannis' six-foot-five first baseman jumped and secured the ball to make the final out.

"Some days that's just how it goes," Sprague-Lott said. "Some days you just got to dig a little harder, try to scratch runs anywhere you can get things going. … They were just keeping us off-balanced. I think they got us out of our rhythm."

Gibson hit Lane for a second time in the bottom of the third inning, and Sundean advanced the runner to second with a punched single. But it didn't matter, as an induced flyout and groundout moved the Liberty product through the inning without any damage.

Honolulu, Hawaii native Kyson Donahue registered Chatham's first hit of the game in the top of the fourth inning and Kent walked for a second time. Driver, however, fanned Robin Fernandez with a slider to end the inning.

With Brody Donay on third, Lohry got all of a Gibson fastball to register his first RBI of the night in the bottom of the fourth to make it 4–0.

A two-out Cameron Pittman single to no man's land prompted a mound visit for Driver in the top of the fifth, but a snap throw by Donay hosed Pittman down. Nova Southeastern's Carlos Rey then replaced Gibson in the bottom of the fifth for the A's.

"Just trying to get comfortable, haven't come out of the pen in quite a bit so just trying to find the zone and find where I'm at," Rey said. "Wasn't used to warming up during a game or so late in a game."

Hyannis painted a fifth run on the board with an Eric Snow RBI single for Rey's first earned run, and Donay piped an RBI triple that hopped over Kent's glove to make it 6–0.

"It's a tough yard to play," Holliday said. "It's rugged."

After a scoreless sixth inning, Kent raked a single over the third baseman's head to start the action for Chatham. Fernandez squared up a near-identical hit, and Evansville's Mark Shallenberger plated Chatham's first run of the game with a shot to right field. Kaden Hopson planted a hopper to the mound for a second run, and Will Butcher grounded out to cut the deficit to three.

"It takes a couple of base hits for it to go and then it takes contact," Holliday said. "We did what we had to do to get 'em in."

But that would be Chatham's last run—and the last run of the game—as the Anglers fell 6–3.