Game 2 Preview: Chatham at Hyannis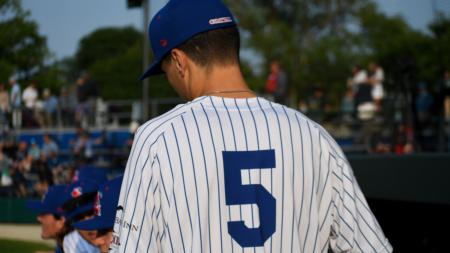 Chatham opened its 100th season at home against Brewster on Sunday night. The Whitecaps entered the contest off of a 6–4 victory over Bourne, the Cape Cod Baseball League champions in 2022, but quickly found themselves on the wrong side of a 7–1 deficit at Veterans Field by the bottom of the fourth.

Over the next three frames, however, the A's fell scoreless while Brewster tacked on seven runs in the sixth inning alone to take a slim one-point lead into the seventh. From there, both sides continued to trade hits, and even entered an extra 10th inning, but the contest eventually ended in a 10–10 draw.

Now, the Anglers face Hyannis in their first away game of the season. After losing its opener to Orleans on Saturday, the Harbor Hawks tallied their first win in an 11–5 thumping of Wareham.

Here's everything you need to know ahead of Chatham's (0–0–1 East) showdown with Hyannis (1–1–0 West).


Probable Starters

Trey Gibson (Liberty): Though Trey Gibson did not suit up for Liberty in 2023, he averaged a 4.91 ERA in his first two collegiate seasons. In 121 innings pitched over the course of the two seasons, Gibson fanned 142 batters and produced a 2.78 strikeout-to-walk rate. In his first practice with Chatham this year, Anglers manager Tom Holliday described Gibson as "electric."

Jay Driver (Harvard): Now in his second summer with Hyannis, Harvard's Jay Driver totaled a 4.56 ERA in three starts and struck out 39 batters for the Harbor Hawks in 2022. Despite losing his freshman year to the IVY League's ruling of two canceled seasons in 2021, Driver has racked up 114 K's across 27 features for the Crimson.


Chatham Players to Watch

Carlos Rey (Nova Southeastern): Nova Southeastern's Carlos Rey currently sits in the transfer portal after three seasons in the Sunshine State Conference where he registered a 2.52 ERA on the mound. In 2023, the pitcher racked up 15 starts and totaled a whopping 102 strikeouts. Also a returner for Chatham, Rey notched 25 strikeouts in 10 appearances last summer. Expect Rey to come in at the top of the fifth inning as a reliever.

Jared Sprague-Lott (Richmond): In the Anglers' season opener against Brewster on Sunday night, Jared Sprague-Lott recorded two RBI's in five at-bats. A rising senior for the Spiders, the infielder led the Atlantic 10 Conference with a .413 average in 26 games as a freshman, and most recently, managed two home runs on May 5 in a win over St. Bonaventure. If Chatham's bats start slow to begin this upcoming contest, Sprague-Lott could be the one to provide a surprise injection of energy.


Hyannis Players to Watch

Bradke Lohry (College of Central Florida): Bradke Lohry, like much of Hyannis' offense, struggled at the plate in a 4–1 home loss to Orleans. But on Sunday night, he bounced back spectacularly, tallying four RBI's in six at-bats to help the Harbor Hawks clinch an 11–5 victory over Wareham. In the 2023 collegiate season, Lohry registered 40 RBI's and 11 home runs, all while batting at a .335 rate.

Alex Lane (Northeastern): Alex Lane walked twice and produced a hit in the Harbor Hawks' first win of the season. In his freshman year with Northeastern, Lane finished with 15 home runs and 57 RBI's. His season highlight came on March 3 when he notched six RBIs against South Florida.


Number to Know: 8

Though Hyannis won and Chatham drew on Sunday evening, both sides enjoyed high-scoring eighth innings. For the Anglers, they retook a 10–9 lead after notching three runs, courtesy of singles from Sam Antonacci and Kyson Donahue as well as a dropped third strike with Reeder at the plate, which sent Antonacci home.

The Harbor Hawks entered the top of the eighth inning up 6–5 but opened the floodgates to score five unanswered runs. Lohry recorded a three-RBI triple while Andrew Sundean's sacrifice fly and Trey Lipsey's run helped generate a six-score cushion.


Last Time They Played

One of five consecutive games where Chatham failed to tally a single win, the Anglers fell to Hyannis 7–3 on July 13, 2022. Spurred by wild pitching and a multitude of errors, the Harbor Hawks left Veterans field after stealing four bases and walking seven times.

Offensively, Caden Grice recorded a homer in the fourth inning and Chatham loaded the bases in the fifth. But Noah Ledford and Johnny Castagnozzi both struck out to return Hyannis back to the plate.

"We had the tying run to the plate three times in the last four innings," Holliday said after the loss. "But again we had a few guys that struck out three times each."