Game 1 Preview: Brewster at Chatham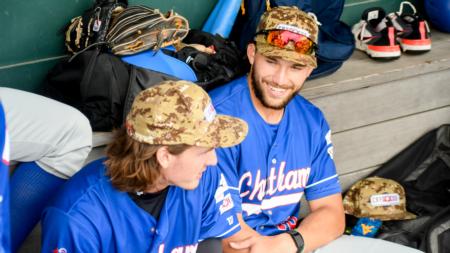 Chatham fans received their first taste of summer ball this season when manager Tom Holliday set his lineup card for the Anglers' opener against Cotuit on Saturday. But inclement weather had other plans.

After having its first game postponed to Thursday, June 15, due to rain, Chatham opens its centennial season with a home matchup against Brewster (1–0–0 East). The Whitecaps fended off Bourne 6–4 in their first game of the season on the back of a three-hit day by Vince Cimini, a Boston College infielder.

The A's are 1–2–1 in opening-day games during Holliday's five-year stint at the helm, and fell at home to Cotuit 5–0 in the 2022 season opener. After failing to reach the playoffs last year, Holliday plans on opting for a different approach to the pitching system, utilizing two starters for the first eight innings of the game, a closer for the ninth, and keeping a ready bullpen just in case.

The former Oklahoma State head coach chose Rice product Parker Smith to be the day-one starter against the Kettleers, and is projected to keep it that way against the Whitecaps.

Probable Pitchers

After inking Smith in as the starter on Saturday, Holliday is expected to do the same at Veterans Field. Smith is a USA Baseball Collegiate National Team invitee and 2023 All-Conference USA first-team selection who notched a 3.58 ERA and 82 strikeouts in 2022 with the Owls. The Houston, T.X., native is set to leave for USA camp in late June, so it is probable that Holliday will use the righty on the mound as much as possible.

Brewster manager Scott Grimes is expected to start Lackawanna College's Kyle Scott for Sunday's affair. Through three seasons with the Falcons, Scott has been a force, posting an average ERA of 3.06 through 32 appearances and 141.1 innings pitched. As the first test for Chatham will be a JUCO product, Holliday will likely stack lefty batters into his lineup in hopes of a high home run count—Veterans Field's short porch stands only 314 feet away from home plate.

Chatham Players to Watch

Durke earned a starter role for the A's in 2022, but his summer was cut short when a Drew Butcher line drive slammed into and broke his throwing arm. The Rice hurler hasn't pitched in an official game since due to illegal substance use, but his underdog tale is soon in the making. If all goes right with Smith's start, Durke is expected to relieve him in the fifth inning. Holliday thought Durke's stuff looked "dangerous" in preseason practice.

Everyday Holliday makes a lineup card this season, he'll likely question where to fit Tate Ballestero. The St. John's product was the first to show up to all preseason practices and one of the last to leave. His tools in the field are akin to a swiss army knife—Ballestero caught bullpen sessions, warmed up in the outfield, and also made appearances in the middle infield—and he's a switch hitter on top of it. After posting a team-high .333 batting average with 35 RBIs and 18 doubles, the utility man batted .288 in 2023 with 45 RBIs.

Brewster Players to Watch

Brewster's left-handed leadoff man could be a problem for the A's. As a sophomore, South Alabama's Will Turner posted a .349 batting average and a .460 on-base percentage in 2023, piping nine homers in the process. Turner notched a hit, a run, and an RBI in the Whitecaps' season opener.

Despite only hitting one home run across the entire 2023 collegiate season, Cimini nuked the Whitecaps' first home run of the season in its victory over Bourne en route to a three-hit day in four at-bats. Cimini's 2023 statistics as a senior with the Eagles usurped his first three years at BC by a mile, hitting .277 with 29 walks in 55 starts at shortstop.

Number to Know: 10

Because Chatham's first game of the season on the road against Cotuit was postponed due to rain, the A's first off-day of the season was washed away with the rain as well. Chatham will have to play 10 straight games before getting a rest. Limiting the opposition's run total in these first few games will be key to keeping a healthy, deep pitching roster.

Last Time They Played

Chatham defeated Brewster 3–1 at Veterans Field for a third straight win the last time the two teams squared up. Wyatt Evans, a former A's southpaw, pitched 5.1 innings of scoreless baseball, which Holliday claimed was a "top five" overall pitching performance for Chatham in the 2022 season.