Game 1 Preview: Chatham at Cotuit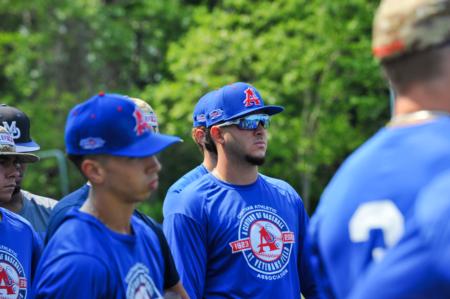 Chatham opens its 2023 season on the road against Cotuit in manager Tom Holliday's fifth year at the helm and the Anglers' 100th of all time.

Chatham is 1–1–2 in season-opening games throughout Holliday's tenure. The A's dropped last year's opener to Cotuit by a final score of 5–0 behind a pitching rotation of Carson Wisenhunt, Jacob Watters, and Chris Villaman.

The A's finished fifth in the East division in 2022 with a record of 15–20–9 and harbored the Cape Cod Baseball League's lowest batting average at .201. Yet, Chatham's pitchers let up only 293 hits in 2022, good for second-fewest in the league.

Holliday said he will look to capitalize on a brand-new position player list in 2023 and has also changed the team's approach in the pitching arena. Holliday will try two starters everyday, the first playing from the first inning to the fourth, the second from the fifth to the eighth, and a closer in the ninth. If one of those starters cannot make it, he'll turn to the bullpen.

Probable Pitchers

Hayden Durke is the name being selected from Chatham's pitching shed, Holliday said after practice. The last time Durke pitched in a game happened to be in Chatham as well, on June 16, 2022, when he broke his arm off a line drive from Falmouth's Drew Butcher.

The A's starter did not play the entire 2023 collegiate season due to illegal substance use during rehabilitation for his arm, but transferred from Louisiana to Rice after departing from Chatham last summer In two seasons with the Ragin' Cajuns, Durke totaled an ERA of 5.63 and a .223 BAVG (batting average against). He tallied 58 strikeouts as well. Holliday said Durke looked "really good" in this season's training sessions at Veterans Field.

Cotuit will start left-handed pitcher Joe Whitman from Kent State, who posted a 2.56 ERA last season in 81.0 innings. Holliday mentioned that other Cape League managers will tend to start lefty's against the A's due to their mostly left-handed lineup.

Chatham Players to Watch

Utility player Lyle Miller-Green is one of the most fascinating tools for Holliday. A Chatham returner and a former Oklahoma State Cowboy, Miller-Green stands at six-foot-five and posted a .354 batting average with Austin Peay in 2023. He's arguably the most proven right-handed hitter in the clubhouse and will be a different look for Cotuit's left-handed hurler. Holliday said that Miller-Green will "straighten out left-handed pitchers" this season.

Parker Smith is likely to come in relief of Durke against the Kettleers in the fifth inning if all goes according to plan. Smith is set to leave in late June as a USA Baseball Collegiate National Team invitee and 2023 All-Conference USA first-team selection. Smith tossed a 3.58 ERA last season with 82 strikeouts.

Cotuit Players to Watch

The Kettleers finished first in team batting average (.254) and second in team on-base percentage (.341) in 2022 and will look to replicate that success in 2023 behind Tennessee's Christian Moore and Stanford's Malcolm Moore.

Christian finished a second consecutive season with the Volunteers batting over .300 and notching an OPS over 1.000. Malcolm, a catcher, and the Pac-12 Freshman of the Year, recorded a batting average of .307 with 14 home runs.

Number to Know: 100

This season marks the 100th season of the Cape League and the 100th season of Chatham Anglers baseball. The centennial season is a historic one for the A's, one of four original Cape League teams.

The CCBL was founded in 1923 consisting of Falmouth, Osterville, Hyannis, and Chatham, and teams were made up of players coming from local colleges and prep schools. In 1963, forty years after the Cape League's official initiation, the CCBL was reorganized and became sanctioned by the NCAA, which is why the nation's top collegiate baseball players make their way onto the Cape every summer to compete up to this day and age.

Last Time They Played

Cotuit was shocked the last time they played the Anglers, falling 10–2 in blowout fashion. Chatham's Anthony Nunez belted a grand slam in the sixth inning of the contest, which Holliday described as a "monster" home run for the team and a "sigh of relief."

The win marked Chatham's first over the Kettleers in four matchups during the 2022 season, and the A's also faced Joe Whitman as Cotuit's starter, who will make a not-so-friendly reappearance today.