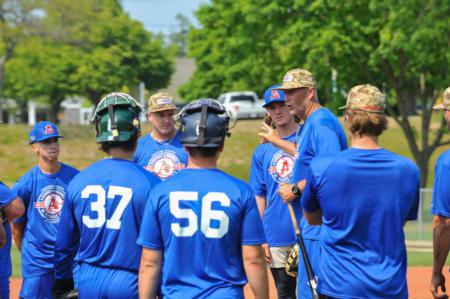 Despite going 15–20–9 and recording the Cape Cod Baseball League's worst team batting average at .201 last summer, Chatham begins its 2023 season with an almost completely new slate of position players.

With the Anglers' 2023 season set to begin on Saturday, June 10, at 5 p.m. against Cotuit, here is a breakdown of Chatham's position players with insight from manager Tom Holliday:

Sam Antonacci (INF) - Heartland Community College

One of just three players from a community college on the roster, Antonacci's batting numbers speak for themselves. After registering a conference-leading .471 batting average as a freshman, the Springfield, I.L., native bested his number in 2023 with a .515. Holliday praised Antonacci as the best junior college hitter in the country along with Xavier Casserilla.

Tate Ballestero (INF) - St. John's

Ballestero clipped a team-high .333 BA with 35 RBIs and 18 doubles as a Second-Team All-BIG EAST honoree in 2022. Despite dropping in batting average to .288 in 2023, Ballestero surged to 10 home runs his sophomore year compared with three his rookie season. Holliday sees Ballestero as a swiss army knife who can play practically any position and said he could possibly go high in the draft.

Carson Benge (UTL) - Oklahoma State

In terms of ways to utilize Benge, Holliday has a plethora of options. Perhaps the most solid incoming hitter, Benge posted a team-leading .468 on-base percentage for Oklahoma State as a redshirt freshman while also seeing time on the mound. The lefty has an explosive swing, but Holliday said Benge is dealing with a groin problem that he "limped through" during the Regional.

Will Butcher (1B) - Charlotte

After hitting .328 in 2021 as a Collegiate Baseball Freshman All-American, the right-handed batter has lacked some of that consistency. His power numbers, however, have stayed consistent across all three seasons as a Niner. Butcher smacked eight home runs as a freshman, 11 as a sophomore, and 10 as a junior. Holliday liked the way Butcher played during Chatham's late-season stretch last year, and thinks he leaves his energy out on the field.

Xavier Casserilla (INF) - Seminole State College (OK)

With a .378 batting average in 2023, Casserilla registered a NJCAA sixth-best 24 home runs in 296 plate appearances. Casserilla brings exposure to Chatham, and the Wichita State transfer could be dangerous. Casserilla is a top two JUCO hitter in the eyes of Holliday, who also said that him and Antonacci will need to get accustomed to the top-tier pitching on the Cape.

Kyson Donahue (INF) - Hawaii

Donahue, who hails from Honolulu, Hawaii, doesn't lack size for a position that doesn't require it. The six-foot-three, 210 middle infielder slugged .487 in 2023, good for third on the team, and hit a second-best seven homers. His career batting average is .301. Holliday said Donahue is a versatile and "true infielder" who is going to be an "interesting addition" to the squad. Holliday added that Donahue played for a coach that he trusts—Rich Hill.

Matthew Etzel (OF) - Southern Mississippi

In his first year with Southern Mississippi, the junior outfielder notched 51 RBIs but nearly matched that number in strikeouts with 47. Etzel started in 63 games during the 2023 season, averaging .316 at the plate.

Deric Fabian (INF) - Florida

The Florida infielder played in 46 games as a freshman and started in 43 of them, tallying an on-base percentage of .323. Although Fabian has started just 10 games in 2023, he's slugged .444, improving from the .331 mark he held last season.

Robin Fernandez (INF) - St. Thomas

St. Thomas' third baseman recorded 32 RBIs in 178 at-bats in 2023. In 2022, he was electric, averaging .370 at the plate with 11 home runs while slugging .616. Holliday likes Fernandez as a piece of the grander left-handed hitting puzzle in Chatham's clubhouse.

Matthew Garbowski (C) - Connecticut

One of just four catchers listed on Chatham's roster, Garbowski battled through injuries in 2022, making just 13 starts in 20 appearances. Despite getting more exposure the following year, Garbowski slugged just .295 with a .238 batting average as the Huskies' primary catcher in 2023.

Luke Heefner (INF) - Dallas Baptist

Heefner played in fewer games this season than he did last. Though his batting average dropped significantly in 2023, Heefner recorded just two fewer walks as a sophomore with 21 as opposed to his freshman season with 23. His fielding percentage rose from .878 to .956 from his first year to his second.

Kaden Hopson (C) - Charlotte

Hopson, Charlotte's primary catcher for the past two years and a Chatham returner, has recorded over 50 at-bats in both seasons. The junior out of Redlands, Calif., improved his batting average in 2023 by just one point at .240 from a .239 in 2022. But, Hopson lowered his on-base percentage from .415 to .374, respectively.

Jackson Jaha (INF) - Oregon

Jaha, a two-way player, has only started in three games this season and is currently competing in a Super Regional against Oral Roberts. He boasts a batting average of .286 in just 14 at-bats. Holliday says Jaha thinks he can play any corner, but his low at-bat count means there will be more to prove.

Kaeden Kent (INF) - Texas A&M

In his first season at A&M, the Austin, T.X., native clipped a .265 batting average in 83 at-bats. Kent posted three hits in a game just once this season, but tallied 23 RBIs with limited plate appearances. Kent walked eight times in 2023 and struck out 17 times. Holliday compared Kent to a "caged-up tiger," and believes he will play for Chatham regularly.

Chris Maldonado (INF) - Vanderbilt

Despite being slated as an infielder, Maldonado was mostly assigned as a designated hitter for the Commodores. In 155 at-bats, Maldonado nearly knocked in as many RBIs (32) as his total strikeout number (37). Maldonado led Vanderbilt at a .310 clip in 2023 with a .411 on-base percentage as well. Holliday believes that whenever Maldonado arrives in Chatham, he's stepping onto the field as a starter.

Aidan Meola (INF) - Oklahoma State

Meola, a returner for Chatham, and one of the four Oklahoma State players on the A's roster, has surged in 2023 after suffering from a broken arm during the 2022 summer. Meola is one of five Cowboys with a batting average of .330 or above despite stepping up to the plate only 88 times. He slugged .568 on the year. Holliday said that for the 30 days they were together, he was the "best third baseman in college since Robin Ventura."

Lyle Miller-Green (UTL) - Austin Peay

Miller-Green, also a returner for the A's and a former Oklahoma State player, hit .354 with Austin Peay in 2023 and piled on 16 home runs. The six-foot-five power hitter also made waves on the mound last season, but went 1–6 with a 8.88 ERA. The Burke, Va., native will likely stick to the bat, as he recorded a slugging percentage of .633 and an on-base percentage of .438 in 2023 as well. Even before seeing Miller-Green take batting practice, Holliday claimed he'd "straighten out left-handed pitchers real quick."

Cameron Pittman (OF) - Radford

After being named to the Big South All-Freshman team, hitting .301 with one homer and 10 RBIs, Pittman had to battle back from injury to play in 27 games as Radford's center fielder. He batted .241 with one home run and 10 RBIs, and also added 17 walks and five steals with a .364 on-base percentage. Holliday loved Pittman's speed but raised concerns about his pop with the bat.

Janson Reeder (OF) - Kansas

After spending three years slashing a .387/.485/.621 line at Cowley Community College, Reeder was ranked as the No. 36 player in the JUCO IMPACT program and transferred to Kansas. As a Jayhawk in 2023, Reeder posted a batting average of .276 with 12 home runs, 16 doubles, and 45 RBIs. After watching him pipe home runs at Veterans Field during batting practice, Holliday said he felt Reeder was a good addition to the lefty air raid in Chatham.

Logan Suave (C) - West Virginia

After batting .493 at the plate as a junior in high school and .423 as a senior at Cumberland Valley, Suave started 43 games in his freshman year at West Virginia. The Mountaineers' primary backstop averaged .267 at the plate in 2023 with an on-base percentage of .400. Suave notched 24 RBIs and 23 walks in addition. Holliday tabbed Suave as a "good-looking freshman catcher who can swing it."

Nolan Schubart (OF) - Oklahoma State

Schubart is a freak athlete. At six-foot-five, 227 lbs, the lefty power hitter squared up 17 homers in his first year with Oklahoma State and averaged .338 at the plate. Schubart was second on the Cowboys roster in OPS at 1.118 and was second in walks as well with 43. His 75 strikeouts, however, led OSU's bats. Holliday raved on and on about Schubart. His comments ranged from "he's a multi-million kind of player" to "he comes out [at the plate] like Joe DiMaggio."

Mark Shallenberger (OF) - Evansville

With four years under his belt at Evansville, Shallenberger batted .209 in an injury-ridden senior year in 2023—down from his .336 mark in 2022 as a junior. Shallenberger's at-bats decreased from 220 to 106 during that time span, and he only started 30 games last season. The six-foot-two lefty hit 4 home runs and registered 13 RBIs last season.

Jared Sprague-Lott (INF) - Richmond

Sprague-Lott, a Richmond product, led the Atlantic 10 in 2021 with a .413 average in 26 games, and has continued to be one of the top contributors to the Spiders' lineup ever since. Sprague-Lott slashed .314/.440/.582 last season with 194 at-bats. As one of the few right-handed batters for the Anglers, Holliday put it simply—"I like him a lot."

Hudson White (C) - Texas Tech

In two years with the Raiders, White has done nothing but improve his numbers all around. The righty batter increased his average from .260 with 215 at-bats in 2022 to .296 with 169 at-bats in 2023. White recorded an on-base percentage of .397 this past season—up from a .369 mark in 2022—and hit 11 home runs this year in comparison to six as a freshman. Holliday said White is going to "be their guy" as one of the best college catchers in the country.