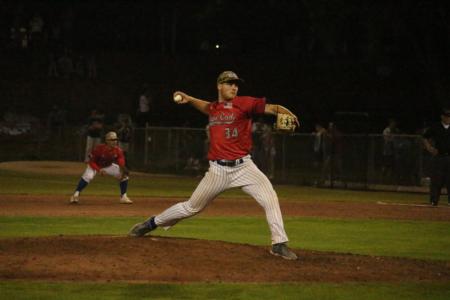 The NCAA Super Regionals begin with Duke taking on No. 7 Virginia in Charlottesville on Friday, a key reason why Chatham doesn't possess its full roster yet.

With several A's players still vying for a shot at traveling to Ohama and capturing the 2023 College World Series title, here's a look at eight members of the A's roster and how they've contributed to their respective teams' runs in the previous Regional round.

Matt Becker (LHP) - No. 15 South Carolina

Out of all the teams competing in the Super Regional round, No. 15 South Carolina arguably has the toughest task ahead of them. That's because No. 2 Florida stands directly between the Gamecocks and Omaha.

Riding a three-game win streak, South Carolina swept the Columbia Regional with victories against Central Connecticut State, North Carolina State, and then-No. 12 Campbell. And it did so with a score differential of 41–11. Five of those 11 runs, however, were allowed by Chatham's Matt Becker.

Becker started for South Carolina in its matchup against Campbell and crumbled in only three innings pitched. But, that was mostly due to a three-run home run he allowed to Campbell's Logan Jordan in the third inning which shortened the Gamecocks' lead from 9–2 to 9–5. South Carolina went on to complete the Regional sweep with a victory over the Camels, but not on the back of Becker.

Becker owns a respectable 4.83 ERA in 54.0 innings pitched this season, so it's likely he'll make an appearance for the Gamecocks in one of the Super Regional contests against the Gators. But it's unclear whether South Carolina will get the best out of Becker, or much of the same from the Campbell matchup. In his most recent performance before Campbell, Becker threw three scoreless against Texas A&M.

Cam Brown (RHP) - TCU

Limiting the nation's No. 3-ranked team that notched a .273 team batting average in 2023 to just four runs in 4.1 innings pitched in a Regional final is no small feat. And that is exactly what the A's returner and right-handed pitcher did against Arkansas.

In TCU's 12–4 win over the Razorbacks, which helped it advance from the Fayetteville Regional final to the Super Regional round, Brown fully handled Arkansas' lineup for the first half of the game. Despite making a couple of slips here and there, Brown established just enough wiggle room for the scorching-hot Horned Frogs' offense on the opposing end.

The starter struck out four and walked four, allowing four runs and two hits in the game en route to TCU's second victory in two days over the Razorbacks. The junior hurler out of Flower Mound, Texas checks out at a 5.50 ERA across 11 starts this season.

Mathew Etzel (OF) - Southern Mississippi

One of the more intriguing underdog tales in the Regional round, Southern Mississippi and UPenn faced off against each other in the Auburn Regional final just three days ago. The Golden Eagles managed to come out on top, advancing to a Super Regional against Tennessee, set for Saturday, June 10. And there is only one other batter on Southern Mississippi's roster that boasts a batting average higher than Chatham's Mathew Etzel's.

Etzel's 51 RBIs are good for third on the batting squad, and his 86 hits are good for first. The Panola College transfer is one of just two players in the lineup who has played in, and started in, every game of the season thus far. The Golden Eagles' historic run is in large part thanks to the former No. 1-ranked recruit on D1Baseball's Top 50 Junior College Impact Players in 2022.

Etzel plays at the top of the order as Southern Mississippi's leadoff man. His 2–5 performance against Samford propelled the Golden Eagles to the Regional final back on Sunday, June 4.

Deric Fabian (INF) - No. 2 Florida

Despite playing in 46 games as a true freshman in 2022, Fabian's at-bats severely decreased in the past year as Florida has surged to nearly the top of the college baseball world. He's only started 10 games this season, but his on-base percentage of .381, and his slugging percentage of .444, is way up from his marks last season.

Nevertheless, Fabian did not make a single start in the Gainesville Regional and did not record a single at-bat. Unless an injury arises in the Gator's infield, this trend will likely continue throughout the Super Regional against South Carolina.

Griffin Herring (LHP) - No. 5 LSU

Herring made a relief performance in the Tigers' Regional-clinching 13–7 victory over Oregon State in the Baton Rouge Regional on Monday. The Southlake, Texas native would've completed the final four innings of the contest, but an RBI double he let up in the bottom of the ninth knocked him out. Regardless, Herring's four strikeouts and two earned runs were enough to push LSU into the Super Regional round.

Herring hasn't made a start all year, but is a regular relief pitcher and closer for the Tigers, posting a 4.55 ERA with a 4–2 record in 29.2 innings pitched this season. Going into LSU's Super Regional series against No. 12 Kentucky, Herring's deceptive delivery and three-quarters arm slot throwing motion will surely be of need.

Jackson Jaha (INF) - Oregon

Oregon's surprise upset over then-No. 6 Vanderbilt in the Nashville Regional shocked college baseball, but Jaha took no part in it. The freshman has proven himself to be a consistent, aware presence at the plate, however, and should be a resourceful tool in the future for the Mighty Ducks.

Despite starting in only three games with nine total appearances, Jaha's .286 batting average and .357 slugging percentage in 14 at-bats make him one of the best pickup options in Oregon's deep clubhouse. Jaha's a two-way player, but has rarely seen time on the mound this season, pitching just 2.1 innings in 2023.

Jacob Widener (LHP) - Oral Roberts

Widener's six-foot-seven, 220-pound frame make him one of the most daunting lefty's on both Oral Roberts' roster and Chatham's. Widener added two strikeouts in 0.2 innings pitched to the Golden Eagles' 6–5 defeat of Dallas Baptist which advanced them to the Super Regional round. He also played in Oral Roberts' 15–12 victory over Washington, throwing 1.2 innings with four strikeouts and allowing two runs.

All of the Golden Eagles' Regional-round victories were won by margins of less than three runs, and Widener, a relief pitcher, is part of the reason those margins stayed razor thin. He'll be a welcoming addition to manager Tom Holliday's pitching staff out on the Cape.

Tanner Witt (RHP) - Texas

Witt's Sunday start against then-No. 9 Miami was all in the making of a 10–6 defeat of the Hurricanes, which advanced the Longhorns to a Super Regional against Southern Mississippi. But it didn't go all as planned. Witt was replaced after two innings, recording just one strikeout and allowing three runs.

Witt underwent season-ending surgery in 2022 after going 2–0 with a 1.64 ERA and has yet to find his full form in 2023. But, with only 9.2 innings under his belt, Witt's showing in a Regional-clinching game could definitely be a sign of more to come. Maybe he can break out of his shell either in the Super Regional round—or even better for A's fans—at Veterans Field in Chatham, Ma.