Chatham hosts Orleans for front end of home-and-home series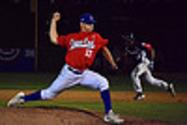 Chatham (17-24-1) welcomes Orleans (22-18-2) to Veterans Field for a 7 p.m. game on Sunday night, before heading to play the Firebirds at Eldredge Park on Monday. Orleans has already clinched a spot in the playoffs while the Anglers have not, with a one-point lead over Brewster with two games to play. The Whitecaps take on Harwich at Stony Brook Field at 4:30 on Sunday.
Broadcast information
Broadcast coverage of the Anglers and Firebirds begins at 6:40 p.m. with the Anglers Extra Pregame Show. Watch and listen on TRZ Teamline or listen by phone 1-800-846-4700, code 3481. Visit Broadcast Central for more information.